The ferry to and from the inhabited island of Inishbofin plies from Cleggan Harbour. It's a short (about 30 minute) trip on the comfortable and safe ferry, The Island Discovery. Inishbofin is a wonderful island, loved by walkers, nature lovers (Inishbofin is still one of the very few breeding grounds for Corncrakes in Ireland), and lovers of good old Irish craic. You can hire bicycles on the island if you prefer to pedal rather than walk; and the island boasts good hotels, B&Bs, bars and hostels. Click here for further information on the ferry service.
Our information is that the Inishbofin ferry is back to normal operations, following suspension during the Covid-19 crisis. Services in Bofin itself may be limited/curtailed; do check things out before you make plans to travel to the island.

If you're planning to head "in" to Bofin, and are travelling by car, may we make a plea that you avail of the several off-road car parks in Cleggan village! The cost per day is very little; your car will be safer; and you will help to ensure that Cleggan isn't clogged with parked cars along the kerbside or in the harbour area.
DO NOT PARK YOUR CAR FOR THE DAY ON THE STREET IN CLEGGAN, OR IN THE HARBOUR AREA. IF YOU DO, YOU WILL NOT BE THANKED BY THE VILLAGE, AND YOUR CAR MAY BE TOWED AWAY IN YOUR ABSENCE. Thank you!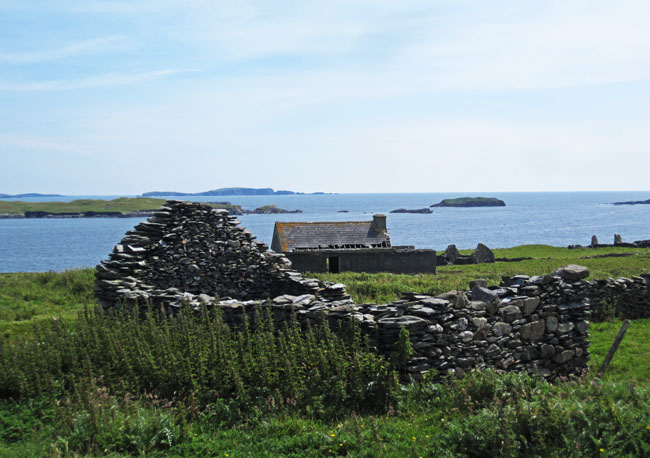 A visit to some of the other islands is also a very interesting thing to do. In particular, Inishark (beside Inishbofin and uninhabited since 1960) is a beautiful and very poignant island to visit. The photo above shows some of the now ruined dwellings - click HERE to read and see more about Inishark. And there are other islands which may be visited on calm days - for example, High Island with its ancient beehive cells, chapel, and millrace.