On bicycle is a great way for getting around the Aughrus Peninsula. The distances aren't too great, and the roads are relatively flat - the upwards slopes are gentle enough, and there's always the downward side! There's never too much traffic, and the views are mighty.
You'll find that there are bicycle route trails marked out all along West Connemara - the route for the Aughrus Peninsula is called "The Cleggan Loop" (though it takes in much more than Cleggan itself!), and it's signposted and marked as Cycle Route "3".
The description and map below are taken from the sign which is situated right beside Cleggan harbour, beside the car park beyond Oliver's Bar Deck.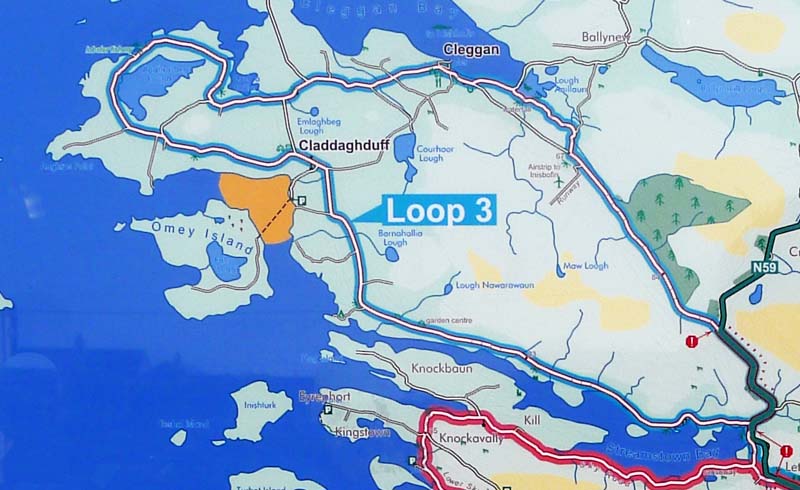 Map of Cycle Loop 3: "The Cleggan Loop" - which actually brings you right around the Aughrus Peninsula (See description below):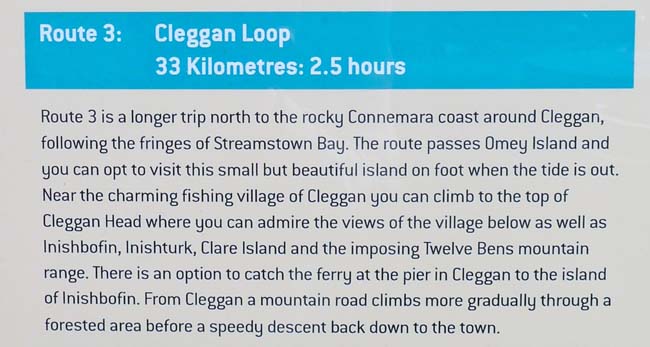 Description of Cycle Loop "3" - "The Cleggan Loop" (from sign at Cleggan Harbour)
IF YOU DON'T HAVE A BICYCLE, OR PREFER AN ELECTRIC BIKE:
- All kinds of bicycles (Mountain and hybrid) can be hired in Clifden, at Mannion's Cycles, Bridge Street. Tel. (+353-0)95-21160/21155.
- And a new service in 2013 already proving extremely popular is Bikeelectric, also based in Clifden. Run by Amanda and Jonathon, who also started that great outlet, All Things Connemara, Bikeelectric have a fleet of modern electrically assisted bicycles for hire. Click
here
to visit their website, or phone them on 095-22630.