We hope that these pages have provided you with lots of information (and encouragement) for your visit to Connemara in general, and to the Aughrus Peninsula in particular.
Of course, there are many resources from which to draw further information, and below we provide you with a small selection of reading material relevant either to our area, or to Connemara.
NOTE: A new book on Omey Island was released, in October 2018. It's OMEY ISLAND - A GEOLOGICAL AND HUMAN HISTORY, by Heather Greer. it contains a great amount of information never previously available to the public before. Available from shops on the Aughrus Peninsula; in Clifden in The Clifden Bookshop and All Things Connemara in Clifden; in Cottage Handcrafts on the N59 and in the Country Shop at Letterfrack; and in Charlie Byrne's Bookshop in Galway; AND you can read more about it, and order online, HERE.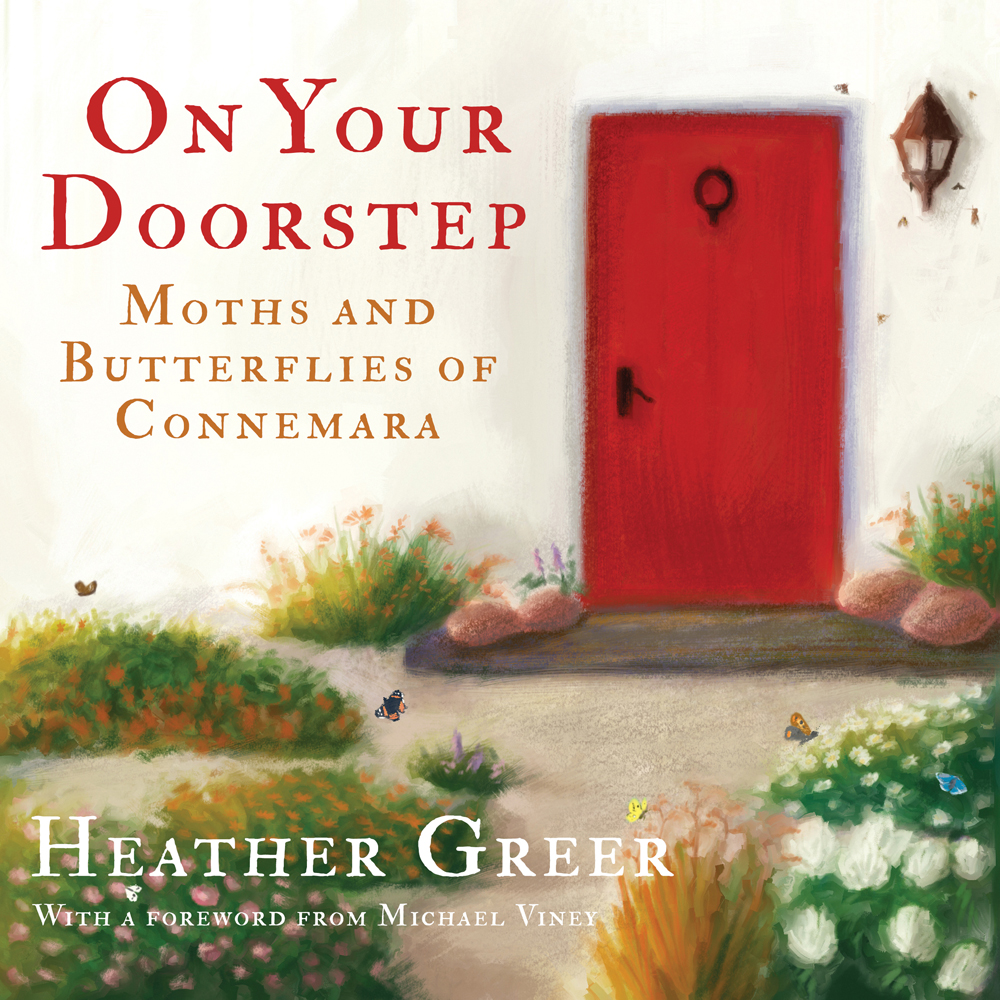 NOTE: If you're interested in butterflies/moths, watch out for "ON YOUR DOORSTEP: MOTHS AND BUTTERFLIES OF CONNEMARA", by HEATHER GREER, available SINCE 2016. Heather lives on the Aughrus Peninsula (and, by the way, created and maintains this website, as a voluntary contribution to the community). This new book is available in a number of outlets in Clifden, on the Aughrus Peninsula, and by clicking HERE you can read more about the book, and order it online, with a substantial discount on P&P, worldwide!

1). Tim Robinson has for many years been closely associated with Connemara. His map of Connemara is famous and is a wonderful source of information; he tramped the length and breadth of Connemara to make it, which means he probably knows more about this region than anyone else!
He has written extensively, and his books are very well-known. All are worth reading. However, one is of particular relevance to the Aughrus Peninsula and to this area within Connemara. It's "Connemara: The Last Pool Of Darkness", Dublin: Penguin Books: 2008. The whole book should be read, of course, but the following chapters will be of special interest to visitors to the Aughrus Peninsula and environs:
"Twilight on Old Stones": About Ballynakill, right beside the Peninsula

"An Ear to the Earth": Much interesting detail about Cleggan Head and the ecological approach to farming sheep on Cleggan Head. Also, other parts along Cleggan Bay, including Rossadilisk

"Refloating Inishbofin": Well...obviously, about the island of Inishbofin...

"In the Mist": Aughrus, Aughrusbeg and the lobster fishery

"Plague and Purity": High Island, off the Peninsula (artist Margaret Irwin has produced marvellous prints from High Island; and see other references below)

"Sometime Island": Omey Island
2). A small DVD and map, beutifully produced and informative, on OMEY ISLAND, is on sale at a small price in Sweeney's shop in Claddaghduff. It was produced by a Waterford man who visits often (as soon as we have his name, it'll appear here!).
3). Certain incidents define a place forever; (as the American novelist, Cormac McCarthy wrote, "Doomed enterprises divide lives forever into the then and the now" [The Crossing, 1994]). It's probably true to write that the terrible storm in October of 1927, which claimed so many lives of fishermen on the Aughrus Peninsula (especially the tiny village of Rossadilisk), on Inishbofin, and in Co Mayo to the north, is one such defining incident for the peninsula. It has become known as the "Cleggan Bay Disaster", perhaps unfairly given that others died as well - but it destroyed Rossadilisk and decimated Inishbofin's community also.
3a). Local woman Marie Feeney has produced a fine book on the storm, those involved in it, its effects on the community, and the generally ineffectual response from the Irish government afterwards to provide assistance to family survivors. A Grandfather of Marie's was caught in the storm; so Marie had both a special interest in producing such a definitive book on it, and an inside knowledge of the storm and its aftermath. Called "The Cleggan Bay Disaster", the book is available locally and in Clifden, and it's well worth obtaining and reading.
3b). Well-known poet Richard Murphy, who lived and wrote for a time both on High Island and in Cleggan village, wrote a long epic poem, "The Cleggan Disaster", about the storm. A moving poem, as is Marie Feeney's account, it's contained in Murphy's volume of poems "Sailing to an Island" (London: Faber and Faber, 1963).
4). There is a marvellous book on High Island (3km offshore), its monastic settlement - beehive dwellings, high cross, chapel, millrace - and much about the founding and operation of this penetential settlement, founded (as was the monastry on Omey Island) by St Feichin of Fore in the first half of the seventh century. The book is "High Island", Jenny White Marshall and Grellan D Rourke, Dublin: Town House & Country House, 2000.
5). "On the Verge of Want", compiled and edited by James Morrissey (Dublin: Crannog Books, 2001) is, as its sub-title says, "A unique insight into living conditions along Ireland's Western seaboard in the late 19th century". It documents and provides detailed facts on the population and living conditions and standards of Western Ireland, in the aftermath of the greatest famines seen in Europe in recent centuries. James has a house in Cleggan, and is a very well-respected writer nationally and locally. See also Ref 23 below, for James's latest book about the area - a comprehensive history of the islands of Inishbofin and Inishark.

6). "To School Through The Years", produced by the Claddaghduff Development association in 2004, is an interesting "local history of the people and schools of the Claddaghduff area.
7). There are several books, available in Cleggan, in Clifden and on the island itself, about Inishbofin - well worth acquiring if contemplating a trip to that wonderful island. A useful, and nicely produced map of the island, produced by Joanne and Eric Elliott, who live in Bofin, is on sale in Coyne's shop in Cleggan, as is a small companion booklet, "The Story of Inishbofin"", also by Joanne and Eric Elliott. "The Birds of Inishbofin, Connemara", by Tim Gordon (Inishbofin Development Company, 2005), is very informative for those many visitors who wish to explore the birdlife on that island.
8). More generally about Connemara as a whole, "The Natural History of Connemara", by Tony Whilde (London: IMMEL Publ Ltd, 1994), is a very interesting book, covering initially the geological formation of Connemara, from the time, some 460 million years ago, when Ireland was in two parts (some things never change...) near the South Pole, to the period when Ireland and Newfoundland were connected (the collision between these two land masses coverting ancient sandstones into quartzites, limestone into marble, and shales into schists, to the subsequent (and consequent) flows of magma which formed the great 1,000 square km granite 'batholith' which typifies much of Connemara today - and is to be found across much of the Aughrus Peninsula. It takes the reader through the much later developments of the Ice Age and subsequent shaping of the landscape through glacial melting. There are chapters on early man in the area now known as Connemara, plants, animal life, life in lakes and rivers, life on the seashore, and much more. A most interesting read as background material on this fascinating part of Ireland.
9). The Irish Ordnance Survey series of maps on a scale of 1:126,720, are excellent and detailed. No 10 in the series covers Connemara, and is highly recommended.
10). There is a number of books on walking in Connemara. An old favourite is "Hill Walkers Connemara and Mayo", by the very well-known Irish hillwalker, David Herman; it contains 34 walking routes in the West of Ireland, many of them within easy reach of the Aughrus peninsula by car.
11). For those looking for more, and more academically-biased material on Ireland, from the earliest times right up to the twentieth century, "Reading the Irish Landscape", by Frank Mitchell and Michael Ryan (both of them highly respected academics) (Dublin: Town House and Country House, 1986, rev.. 1990, repr. 1993 and 1998), is a comprehensive, brilliiantly researched and fascinating account not only of Connemara but of the whole of Ireland.
12). An excellent, small-format (but pretty comprehensive!) book on the wild flowers of Connemara is "Connemara Wild Flowers: An Introductory Guide", Dieter and Jane Stark, Cleggan, Co Galway: Connemara Images. Dieter Stark is an accomlished photographer, and Jane Stark is an amazingly talented, world-class botanical artist. Living in Oughterard, they also have a residence on the Aughrus Peninsula; so these are yet more talented local folk!
13). A not-altogether comprehensive, but nonetheless excellent small book on "Wild Plants of Connemara and West Mayo", by Charles Nelson (who used to be horticultural taxonomist with the Irish National Botanical Gardens in Glasnevin, Dublin, is an excellent and easy-to-follow (colour-coded) guide to many of the wild plants and flowers to be found in Connemara. Most, and more, are to be found on the Aughrus Peninsula. Publication details are Dublin: Strawberry Tree, 2001. [Incidentally, we intend to expand this website soon, with pages describing the trees, shrubs and perennial plants which grow in coastal Connemara - not only those in the wild, but also some which gardeners in the area may find will withstand the wind and salt on the Peninsula, based on our own experience to date.]
14). There are several excellent books on Ireland's birds, and it is hard to select any one over the others. One we would recommend is "The Complete Field Guide to Ireland's Birds", by Eric Dempsey and Michael O'Clery, Dublin: Gill & McMillan, 2010.
15). Shore birds are of particular interest around the Aughrus Peninsula; and "Shore Birds of Ireland", with text by Jim Wilson and stunningly beautiful photographs by Mark Carmody (Cork: The Collins Press, 2009) is an informative and really gorgeous book.
16). For children and adults alike, exploring the shore and the life in rock pools is great fun. A small pocket book, "A Beginner's Guide to Ireland's Seashore", by Helena Challinor et al (Co Cork: Sherkin Island Marine Station), is an excellent source of information on every life-form you're likely to come across on the shore.
17). If you'd like to go further with this, and try your hand at using seaweeds in cooking, Prannie Rhatigan's very beautiful - and oh so informative! - "Irish ) Seaweed Kitchen: The comprehensive guide to healthy everyday cooking with seaweeds" (Holywood, Co Down: BOOKLINK, 2009) is exactly what it says, and an absolute delight!
18). If you want just one book that will serve as a (fairly) comprehensive guide to Irish wildlife of all kinds (mammals, birds, reptiles, amphibiansl fish, insects, molluscs, crustaceans, trees, shrubs, flowers, grasses, fungi, etc, etc..., then "Complete Irish Wildlife", by Paul Sterry, with introduction by Ireland's well-known nature broadcaster Derek Mooney (London: HarperCollins, 2004, is probably just the book for you. In our view, some of the photos could be clearer, but it's a grand book with a very wide coverage.
19). As you may already have guessed, the writer and producer of this website is especially interested in butterflies and moths (moths being the real interest); so she can't resist recommending just one book on moths. "Enjoying Moths", by Roy Leverton (London: T&AD Poyser Ltd, 2001), is an absolute joy. It's written by someone who has loved moths since earliest childhood - he bred moths and would release hundreds of young adult moths into his parents' living-room to decorate it on special days (wouldn't you just love that); his enthusiasm and expertise shines through... The butterflies and moths you will find in Connemara tend to be native Irish species - not many UK- or Continental Europe-born moths make it across this far, though some do. The range and the beauty are still spectacular, though; and just think: you can spot and admire moths just by looking at what flies around your outside light at night, or first thing in the morning, or out on nature strolls.
20). One of the definitive guides to moth identification, covering many more than those found in Connemara, is "Field Guide to Moths of Great Britain and Ireland", Paul Waring and Martin Townsend (Ill. Richard Lewington), Hamps, UK: British Wildlife Publishing, 2003. It's an excellent production, and its illustrations show the moths as you will normally see them, in resting position (which has the drawback of not generally showing the hind or underwings, but is a definite advantage for ID purposes.
21). If it's butterflies that turn you on (and personally, I prefer to include moths but still love to see the dazzle and glitter of a butterfly in the sunshine), there is a brand-new book on Irish butterflies, just published in February of 2012. It's "Irish Butterflies: A Review", by David Nash, Trevor Boyd and Deirdre Hardiman. It has some 350 maps, drawings, charts, and photographs; and it covers all 34 of the butterfly species regularly seen in Ireland, together with rarer 'vagrant' butterflies to our shores. Not all of these are seen this far west, but it's a book that any butterfly lover would love to have and treasure. Trevor Boyd, who sadly died in December 2010, was the Northern Ireland Butterfly Recorder.
22). "Inishbofin and Inishark - Connemara", compiled and edited by James Morrissey (see also ref 5 above for another book from the same author) and published in 2012 is a wonderful historical evocation of the two largest islands lying off the Aughrus Peninsula. Packed with information, histories, anecdotes, and wonderful photos (old and modern), it's a real treasure!
The Connemara Journal produced a comprehensive article and review of this book, at the time of its publication. To read this, just click on the first of the two links below. And you can download a pdf file of the dust jacket by clicking on the second of the links.
23). "OMEY ISLAND - A GEOLOGICAL AND HUMAN HISTORY", by Heather Greer (Publ.distr. by Connemara Doorstep Publications; first released October 2018). Read more about this new book - with lots of new and important information about this wonderful island - HERE. You can also order this book safely and securely at that website (just click on the "Order" sub-menu link at the top of the page).

24). "A Day At The Races" is a limited-edition photobook published by Heather Greer, and containing some 65 black-and-white photos of the Omey Races 2012.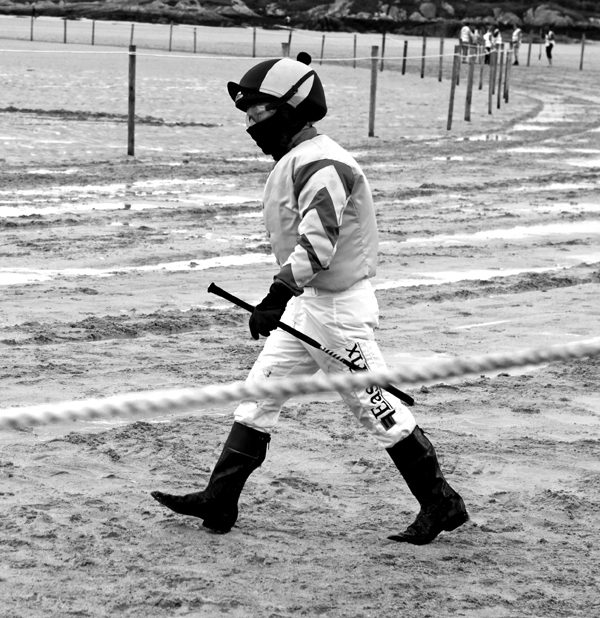 The photos include images of well-known local people, and represent an attempt to capture the many facets of this great annual institution. It is also the first in what is hoped to be a series of limited-edition books of photos (mostly in B&W), which over time will serve as a social archive of the activities, lives and people of this area. OUT OF PRINT, but available to look through at Sweeney's Bar, Claddaghduff.

Finally, if any visitor to this site has further recommendations on books and other sources of information which may be of interest to visitors, please do contact us!