ISLANDS OFFSHORE AUGHRUS PENINSULA
By request, we've added this page, which we hope to build up gradually as we obtain information and photos.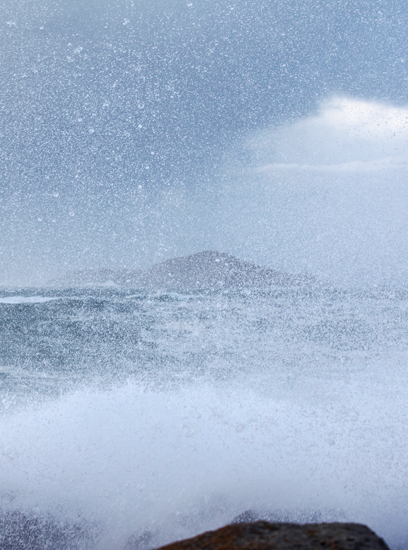 As all visitors to the Aughrus Peninsula know well, there are many offshore islands visible from the mainland - Inishbofin, of course (we won't be covering that island here, as it's well known, and covered a-plenty elsewhere); Inishark, uninhabited since 1960; the privately owned High Island with its monastic remains and remains of much later mining activity; Cruagh and Friar Islands, hard to access (the photo on the right is of Cruagh Island, taken in a Force 9 gale, its distinctive outline still clearly visible despite the spray from a wave breaking on the back of Omey); and the more southerly islands of Inishturbot and Inishturk South, each inhabited by at least some families, and utterly beautiful....
For a mine of information on Inishbofin and Inishark, see James Morrissey's authoritative and beautiful book ("Inishbofin and Inishark - Connemara" - see item 22 on our page "Further Resources and Reading"). As we say, we won't be covering Inishbofin on this page, but we will include Inishark, as it's of great interest and often not seen by visitors.
So...as we gather photos and data, we'll add to this page, hoping to provide a glimpse of some of the islands that many visitors won't have an opportunity to visit themselves.
HIGH ISLAND:
On 11th July we were privileged to join Feicin and Michael Mulkerrin on a trip to High Island. Although people do visit High Island, it is in fact privately owned. There's no pier or landing place that's accessible in anything other than settled weather, and even with a light wind you can encounter a scend that makes landing difficult. Not only is the landing treacherous; there are dangers on the island too, such as disused mineshafts, which is one good reason why unaccompanied visitors to the island are not encouraged.
But Feicin – and Michael too – know every inch of the island, and they made for tremendous, generous and expert company! And on the day in question, there was practically no wind or swell at all. Feicin is well named also, since the monastic settlement on High Island is said to have to been founded by St Feichin, in the 7th century. It's speculated that the High Island settlement was the more penitential element of the Omey Island monastic settlement. Others followed Feichin over the centuries, and in more recent times the island was for a time mined for its copper ore, before sea water flooded the mines and made further work impossible. On what was maybe the warmest and sunniest of days here in many years, we were treated to a guided tour of the island and the remains. Too much to write about or describe here; but "High Island: An Irish Monastery in the Atlantic", by Jenny White Marshall and Grellan D Rourke (Dublin: Town House and Country House, 2000) gives a great deal of information, as does a chapter in Tim Robinson's "Connemara: The Last Pool of Darkness". And Feicin tells us that a new book, describing the more recent excavations and discoveries, is expected later this year.
We've added an album (see below) with just some of the photos we took on that great day. Our deepest thanks to Feicin and to Michael too; we'll never forget that day!
INISHARK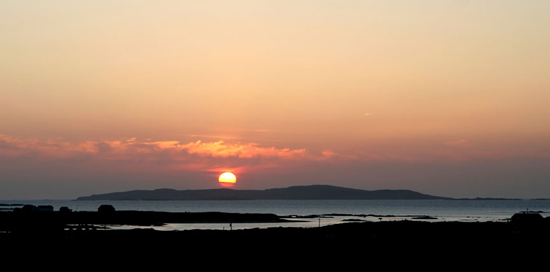 The beautiful island of Inishark lies just to the south of Inishbofin.
Uninhabited since 1960, it once was home to a thriving community. But the lack of electricity and especially the lack of a protected pier meant that islanders lived a hard life, and ran the constant risk of being cut off from the mainland for weeks or months on end. The death of an islander in 1960, from acute appendicitis which couldn't be treated in hospital because the island was cut off by constant storms at the time, was the last straw: the remaining islanders left, together with their livestock and domestic animals. Inishark was abandoned.
Well, not altogether, by any means. The island has been used as a summer base since then by local fishermen. Sheep from the mainland are regularly grazed during the summer months, on the rich pasture-land of Inishark. The Inishark families and their descendants - who were mostly housed on smallholdings on the Aughrus Peninsula within sight of their beloved island - still fondly remember their old island home. Anniversaries are celebrated with masses held on the island.
The photos below were taken by Heather Greer on a visit to Inishark during a beautiful summer's day in 2011.

And more will follow on the other islands as time passes, we hope.