A paradise for young and old in N.W. Connemara!
The Aughrus Peninsula in Co Galway, Ireland, is one of the most beautiful areas in all of Connemara.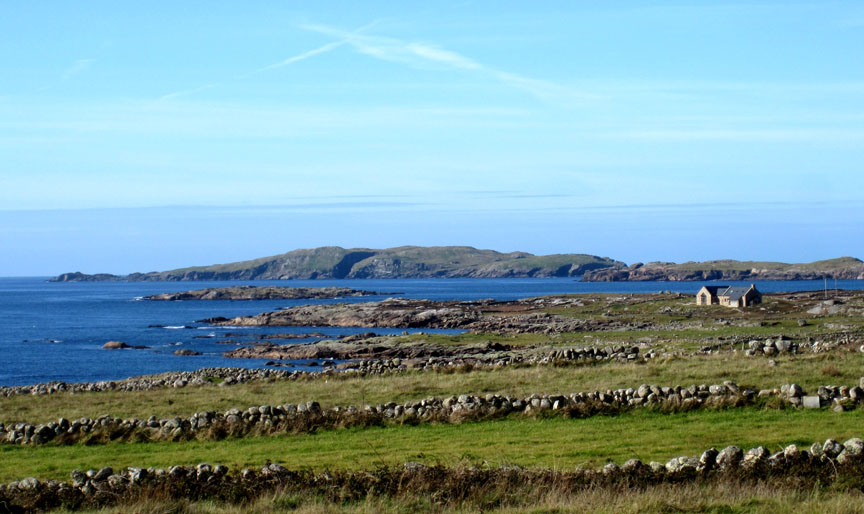 Only a fifteen minute drive from Clifden, the Capital of Connemara, it is very easily reached, by car or by bus (see the "How to Get Here" link).
The peninsula is one of the most westerly points of Connemara, and indeed of Ireland. The fishing village of Cleggan lies at its northerly base, at the head of Cleggan Bay, while on the south-westerly side lies the village of Claddaghduff. Omey Island (which can be reached on foot or by car across Omey Strand from half tide to half tide) is justifiably famous for its beauty and solitude. The whole pensinsula is a paradise of lovely walks and views, with safe, deserted golden beaches dotting its edges.
With homely bars and eating spots in Cleggan and Claddaghduff - with any number of holiday homes, B&Bs and camping sites - and with its proximity to all of the best-known tourist and sporting sites in Connemara - the Aughrus Peninsula is the ideal base for your stay in Connemara!
PLEASE DO LIKE US ON FACEBOOK - Click HERE (and do feel free either to contact us, initially via Messenger on Facebook). And note the CONTACT US link in the sub-menu list at the top of this page.

NOTE: The Aughrus Peninsula is sometimes written as AUGHRIS Peninsula; but as it's spelt "Aughrus" on the Ordnance Survey and other maps we've consulted, we're sticking to "Aughrus" with two "U"s. Furthermore, the authoritative P W Joyce, in his work "The Origin and History of Irish Names of Places", London: Longman, 1922, p474, spells our peninsula as "Aughrus", as opposed to the spelling "Aughris" which he gives to the two places of that name in Co Sligo. The placename "AUGHRUS" means "Promontory of the horses" - it derives from the older "Each-ros". Interestingly, Joyce points out that the old Irish "each" (horse) is shared with Sanskrit, Greek, Latin and Old Saxon. "Ros" or "Ross" can mean either "wood" or "headland".


The Gallery below is just to give you an initial flavour of our area. You'll find LOTS more photos and descriptions and helpful information throughout this site.

On this site we aim to show you just how much the AUGHRUS PENINSULA has to offer! We will tell you how to get here; about all the things there are to see and do - not only on the Peninsula itself but in its environs too; great places to stay, and places to eat, with the best value; and the host of events and activities taking place throughout 2012. We include not only the major events, but also those activities aimed primarily at people in the locality, so that you can visit the Aughrus Peninsula and feel as if it's a home from home, as well as a wonderful place to unwind. That way, we hope that you'll want to come again - and keep on coming! ;-)
If you find the service/information you were looking for, on this website, do let us know. And, more importantly, please do tell the person whose service you are using as a result. AND DON'T FORGET TO 'LIKE' THE SITE ON FACEBOOK; IT HAS ITS OWN PAGE. THANKS!

This website has been designed and asembled by Heather Greer, a local photographer who lives on the Peninsula. The site presents a selection of her photographs . In assembling the site, Heather has been helped by numerous others, who all want nothing more than to welcome you to the Aughrus Peninsula, and to show you what it - and they - have to offer visitors, young and old.