AUGHRUS PENINSULA
THE ENVIRONS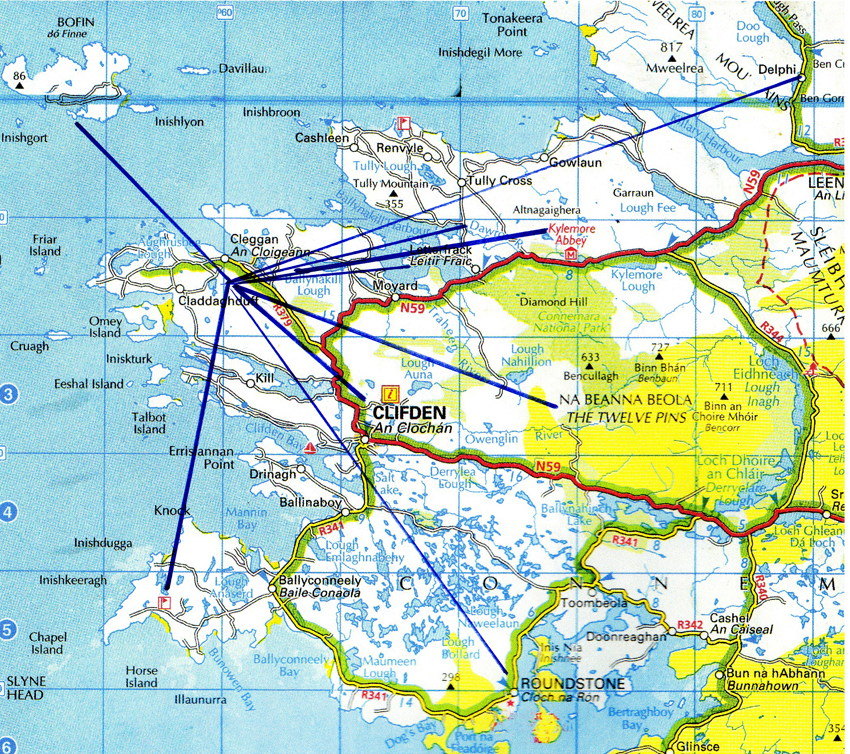 As you can see from the map above, the Aughrus Peninsula is within very easy reach of so many attractions - apart from those on the Peninsula itself, of course! Working clockwise around the lines drawn on the map, we show just how close you are to...

...Inishbofin (Bofin)

...Killary Harbour - Ireland's only true fjord
...The Delphi Mountain Resort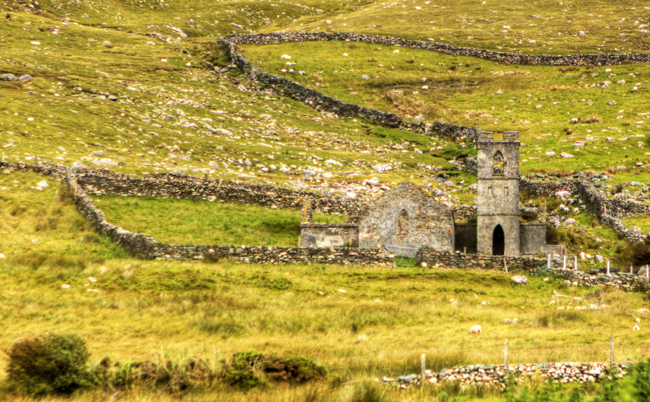 ...North of Killary, the attractions of South Mayo and the Partry Mountain range, where you'll encounter all sorts of beauty, and wild, wild countryside, such as the bleak rocky hillside that's home to this ruined church of long-ago......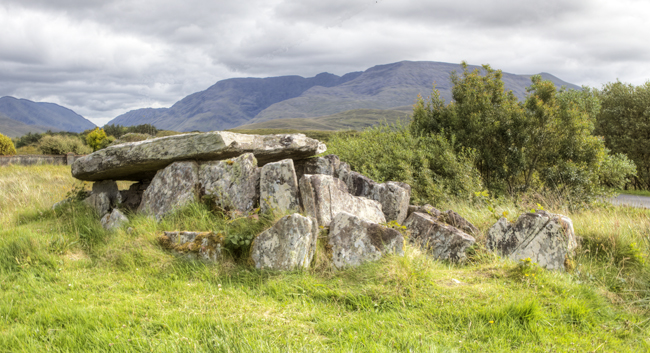 ... Lots of archaeology, such as the Altair Wedge Tomb (reminscent of that on Cleggan Head), in the area known as "The Yellow River Land", north of Killary Harbour.
...The Ocean and Country Visitor Centre at Derryinver, on Ballynakill Bay (Harbour), between Tully and Letterfrack, with its museum and Ireland's only glass-bottomed boat tours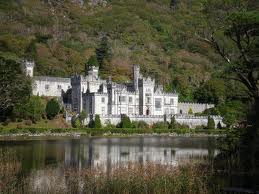 ...The world-renowned Kylemore Abbey and Walled Gardens, perhaps Connemara's number one tourist destination - indeed, one of Ireland's most famous and popular destinations.

...Letterfrack village, and just before you enter the village, the entrance to the wonderful Connemara National Park, which includes a visitors' centre and exhibition area, tearooms, and of course the beautifully laid-out walks, either around the foothills of the Diamond Hill, or to the summit of Diamond Hill itself.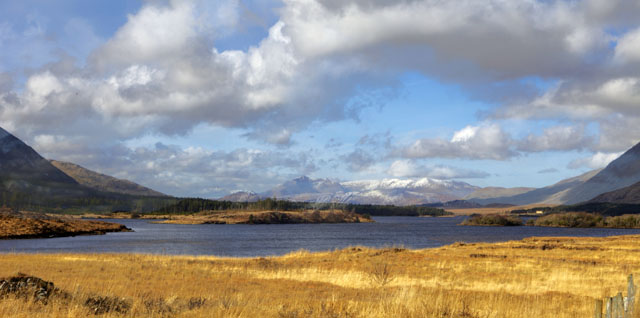 ...The lovely Inagh Valley Drive, from the N59 not far beyond Kylemore, to Recess, also on the N59 Galway-Clifden road (20 minutes from Clifden)
Above: Inagh Valley in Winter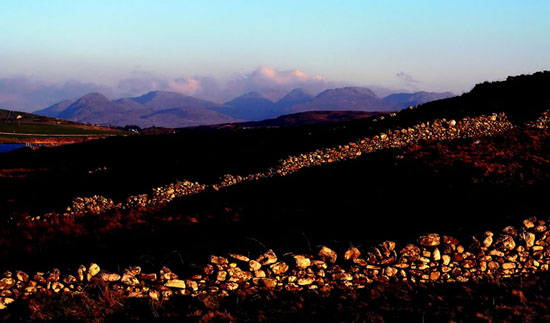 ...The Twelve Pins Mountain range, unspoiled and emblematic of Connemara - wonderful for a fantastic range of hill-walks for the enthusiastic hiker.
...Clifden town, the capital of Connemara, with its many hotels, shops, pubs and other attractions.

...The attractive village of Roundstone, with Ballyconneely on the way from Clifden - a lovely drive along the coast, past beautiful beaches. You can take a round trip from Clifden, along the coast to Ballyconneely and Roundstone, on to the famous and hospitable Ballynahinch Castle Hotel (with fantastic fresh-water angling), and back to Clifden via the beautiful "Bog Road".
...The Connemara Championship Golf Links, near Ballyconneely.
And the above is a mere sample of the wonderful places to visit, and things to do - all so close to the Aughrus Peninsula.