Household waste must be divided by YOU into:
1. General waste (non-recyclable waste such as leftover food). This is placed in Green bags.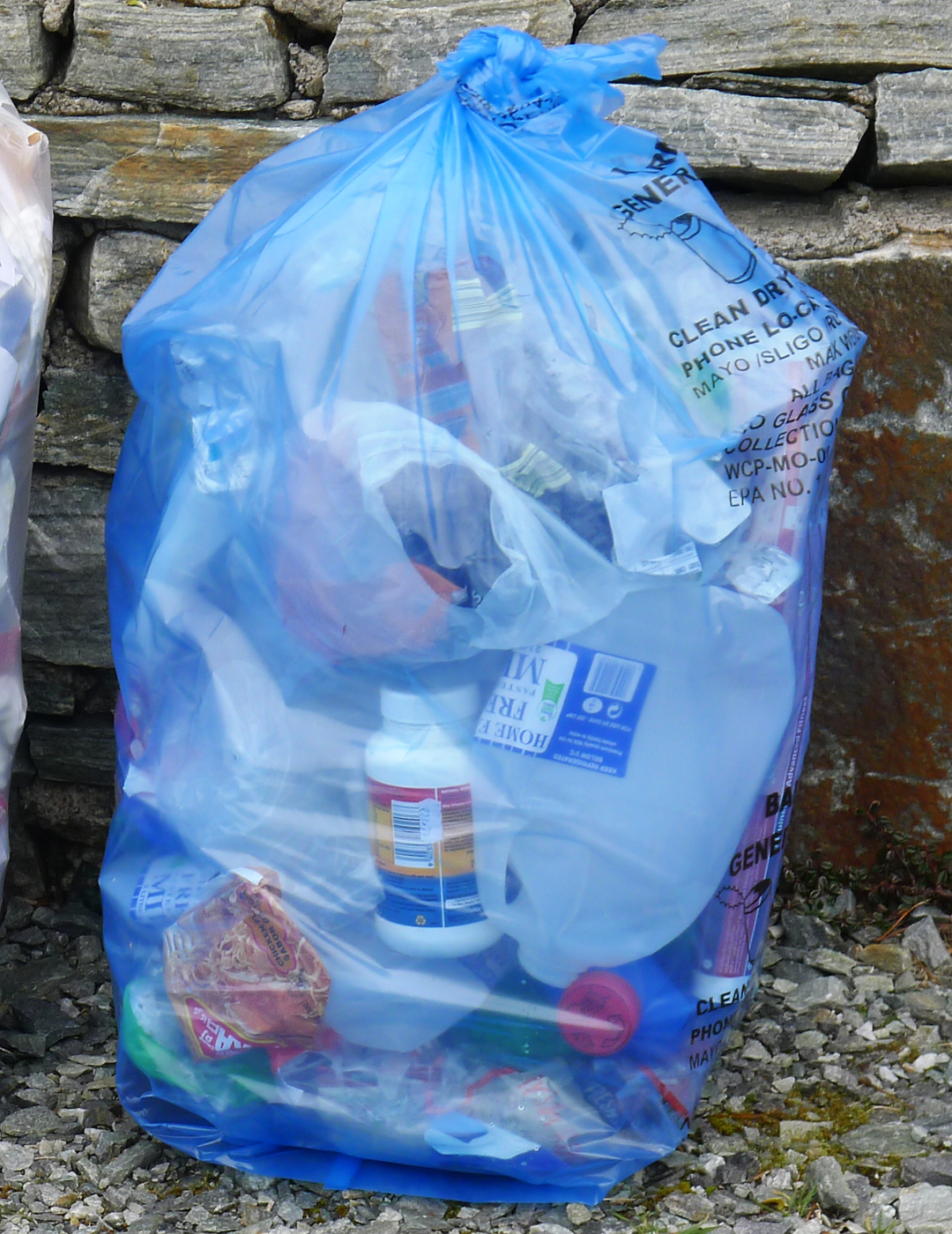 2. Recyclable waste in the form of dry paper/cardboard, steel cans, and plastic, go into Blue bags;

3. Aluminium (drinks cans, aluminium foil), and glass. These can be left by you, free of charge, in the recycling containers beside Sweeneys (Claddaghduff) or at the harbour (Cleggan).

On the Aughrus Peninsula, household waste is collected very early on THURSDAY mornings; so leave your waste out on WEDNESDAY NIGHT, as late as possible (to avoid dogs or foxes breaking open the bags.

If in doubt where to leave your bags, notice where local people leave them - at convenient corners/road junctions.
If the house you're staying in uses 'wheelie bins', you can use these instead of bags: grey/black bins for non-recycling, and blue for recycling.
PLEASE DO use the FREE facilities for glass and aluminium! These materials use enormous amounts of energy to produce, and recycling them is really important for the environment.
Check locally in the shops for what colour bags/bins are collected on what weeks (they alternate)

A useful tip:

Visitors staying in holiday homes and leaving at the weekend may find it useful to know that you can leave properly bagged (see above) recyclable & non-recyclable waste at the Recycling Centre in Clifden (on the N59 as you leave Clifden towards Galway, about 100 meters past the cattle mart, and on the same, right-hand, side of the road). It's open between 8.30am and 4.00pm on SATURDAYS AND MONDAYS. You MUST have your waste in the proper bags. But there's no charge for leaving it there.
Finally, a few more points:

...If you're camping or staying in a holiday cottage, or indeed if you're picnicking or just passing through, you'll wish to leave the place as you found it. Although you'll still find rubbish around where it shouldn't be, the County Council and the local Council, plus volunteers, do actually spend quite a lot of time trying to keep the place tidy. Much of the rubbish you do see on beaches is actually detritus washed ashore from passing ships, or maybe even from another continent. We could do better, but we're trying.
If you have any queries, click here to reach Barna's website; or call them on 091-771619.
Remember:
- Leave your bags out on the roadside as late as possible on Wednesdays!