REFRESHMENTS/EATING OUT
COVID-19 CRISIS

Please note that during the Covid-19 crisis things are changing rapidly, and the information below isn't correct.
HOWEVER...we're delighted that Sweeney's (Claddaghduff) and Oliver's (Cleggan) are open again, complying with the restrictions/regulations. Others will follow.
IN CASE YOU DON'T ALREADY KNOW THIS, THE AUGHRUS PENINSULA IS RENOWNED FOR ITS SHELLFISH, WHICH IS EXPORTED (MUCH OF IT LIVE) TO GOURMET MARKETS IN EUROPE EACH WEEK. IN PARTICULAR, CLEGGAN CRABMEAT IS FAMED FOR ITS TASTE - AND YOU CAN EAT IT HERE AT VERY REASONABLE PRICES. DO CHECK IT OUT - YOU WON'T BE DISAPPOINTED.
In Claddaghduff...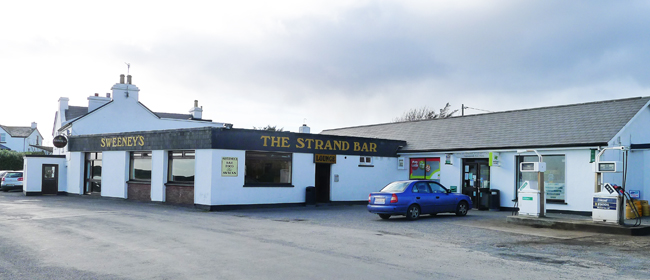 After a walk around the Peninsula, or a trip to Omey, or just when you're in the vicinity, Sweeney's Strand Bar is just the right stop for you! The Bar is right in the centre of Claddaghduff, and beside the well-stocked shop and Post Office, plus pumps for petrol and diesel, all run by Mary Sweeney and Malachy. And note that Mary and Malachy check the tide times for Omey every morning, and are the authorities on the safe times for reaching - and returning from! - Omey Island across the strand. (You can also check the tides for yourself - just click on the "Everyday Practicalities" main link on the left, then locate the "Tide Times" sub-menu link on the page that opens. You can obtain tide details for this area for any date in 2019).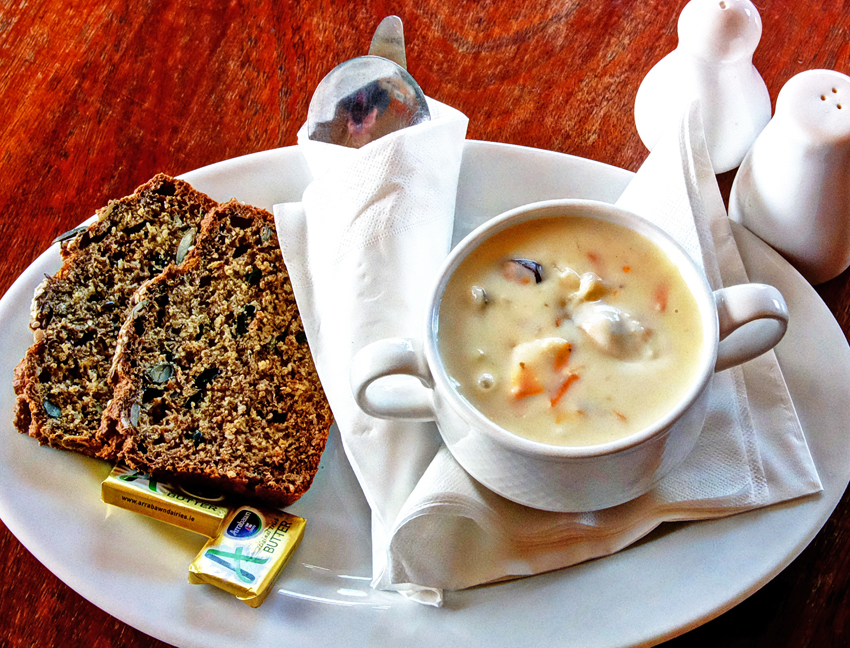 During the day, Sweeney's Strand Bar serve hot and cold food the year round (a much bigger selection during the visitor season), from soup and sandwiches or rolls, to delicious smoked salmon, crabmeat, chicken, potato wedges, paninis.... We know from experience that their Chowder (see photo to the right) is to die for, and we can also tell you from personal experience that their open crabmeat sandwiches on fresh brown bread is gorgeous, not to mention their other spicy wraps and paninis! And more: delicious Lasagne and other delights are often on the menu; and of course the shop does fresh Cuisine de France breads and lots of takeaways to eat as you go (just pleeeeease don't litter the roads with the empty cartons...)
This is the view from Sweeney's Lounge overlooking Omey Strand and Island, and on a clear day, a view right down to Slyne Head. Nice, eh???

You'll also find Sweeney's mentioned below (under the "Entertainment" and "Provisions" headings).
Visit Sweeney's own website to learn more: www.SweeneysBarCladdaghduff.com

In Cleggan...
Oliver's Seafood Bar and Restaurant is renowned for its welcome and for the variety of services on offer, from bar food and drink, to its seafood restaurant, to entertainments, and its friendly and very good-value B&B.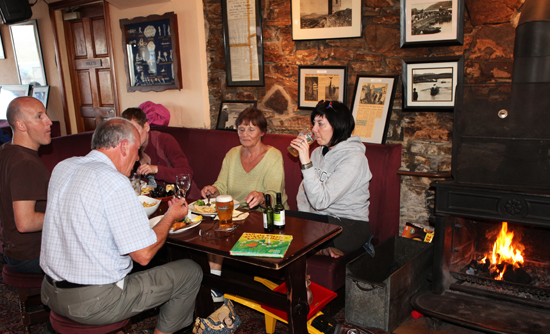 Oliver's Bar serves food the year round. Whatever the season, you will be able to order soup, wonderful Chowder, sandwiches, paninis, and specialities such as mackeral pate, smoked salmon, crab claws in garlic, and other delicious items from their bar menu (what they have on offer varies over time and depending on what is available); and at lunchtime, you can order from their more extensive lunch menu, with fish, crab, meats, salads...on offer.
During the winter and spring, on Sunday night until 7.30pm you can enjoy Oliver's "SURF 'n TURF" limited but handy and pleasant menu.

Oliver's EARLY BIRD menu during the visitor season is popular and attractive to families with lots of hungry mouths to feed - and of course to everyone feeling hungry and wanting a nice meal earlier in the evening! You can choose from the Early Bird menu, to dine either in the Bar area, or in the restaurant.
expect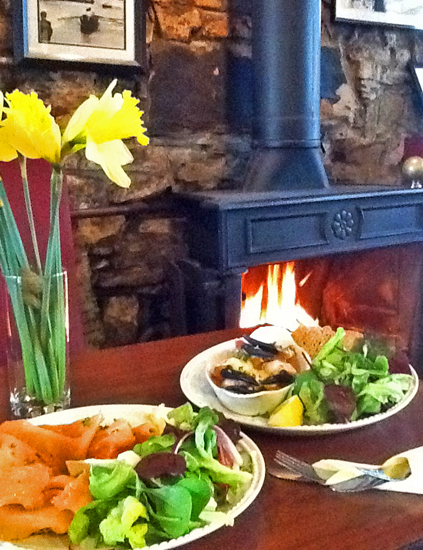 Oliver's Restaurant is open for business during the summer season - out of season, after the beginning of September, it's advisable to phone 095-44640 beforehand, to check availability and what's on, when. In the summer, the restaurant offers a wide menu of fine, fresh seafood, including sole, seabass, lobster...as well as delicious Connemara Lamb, steaks and many other dishes. When the main season ends, you can often avail of a tasty "Early Bird" menu, and always there's the snack menu.

Why leave the Aughrus Peninsula for dinner, when you have something like that on your own doorstep? And on a fine day, Oliver's Harbour Deck allows you to enjoy a drink and a meal in the sunshine, as you watch all the goings-on in the harbour-front.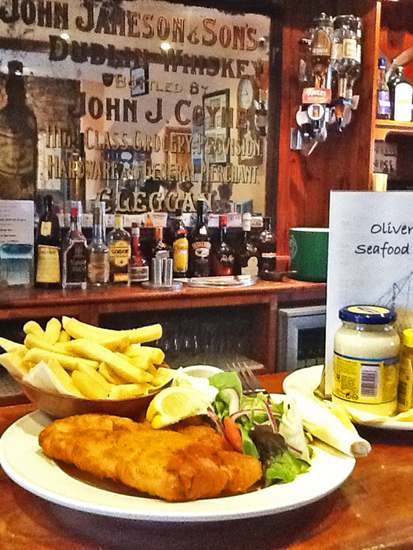 During the winter months, on Sunday evenings, Oliver's also offers a range of hot meals from its "Surf 'n Turf" menu - we especially like their fresh lightly battered fish and chips with salad (or with potatoes and veg if you prefer), but you can also enjoy steaks, lasagne, chicken, curries...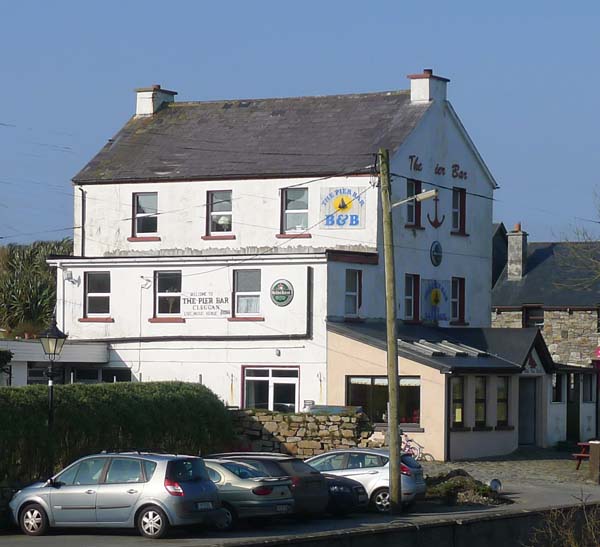 The Pier Bar, right down at the harbour, also offers a range of food, both hot and cold, starting in May and running through the summer period. We hear good things about it - the Pier Bar has been building up its variety of scrumptious food on offer, and friends tell us their open crab sandwich is excellent, as are their other dishes. More recently, we've been told on excellent authority that the PIER BAR serves a great range of fresh fish and shellfish, not to mention a fantastic pizza, or their wonderful Spicy Buffalo Wings or freshly made chicken goujons! And more and more lovely dishes being added all the time.

A more limited selection is available out of season - but still well worthwhile checking out!
Phone 353-(0)95-44718 to learn more.

And.... During the summer season, when the days are long and there's lots to do, who wants to be thinking about cooking for themselves? If you don't feel like cooking, and you don't feel like sitting down in a restaurant or bar for a meal, how about a delicious takeaway???
The Harbour Cafe in Cleggan (just next door to Oliver's) is open during the summer, and serves up a grand range of takeaway food, from fresh fish in batter, to burgers, and everything you and the kids might want. Definitely the good option when you're feeling lazy and you want some delicious food you haven't cooked yourself! From our own personal experience, we can vouch the freshness of the fish (we love the fresh fish goujons, but you takes your choice...) and the high quality and fine value of the food! They are open in the evenings during 'the season' - best if possible to be there by 9.00pm, but we do know you'll usually find fine service if you're there by 9.30pm - it's basically until the hungry punters are served and satisfied. By the way, you can eat IN their own restaurant section, OR at an outside table, or you can take away; it's up to you.

Last year, we had a NEW eating location: a POP-UP CAFE, located at Joyce's Bar, Cleggan, and organised by Philippa Duff and Sinead Foyle: THE SEA HARE.
We understand that for 2020, the Sea Hare will be situated in the Pier Bar, at Cleggan Harbour.

THE SEA HAREhas received loads of local and national publicity.
Details of when they're open, and how to book for their weekly long-table dinners (Thursday nights) will be found on The Sea Hare Facebook page: HERE.

Please do mention AughrusPeninsula.com if you find information on this website about a bar or restaurant or other service, and find the information helpful. Thanks!

If you find the service/information you were looking for, on this website, do let us know. And, more importantly, please do tell the person whose service you are using as a result. THANKS!