REFRESHMENTS/EATING OUT
IN CASE YOU DON'T ALREADY KNOW THIS, THE AUGHRUS PENINSULA IS RENOWNED FOR ITS SHELLFISH, WHICH IS EXPORTED (MUCH OF IT LIVE) TO GOURMET MARKETS IN EUROPE EACH WEEK. IN PARTICULAR, CLEGGAN CRABMEAT IS FAMED FOR ITS TASTE - AND YOU CAN EAT IT HERE AT VERY REASONABLE PRICES. DO CHECK IT OUT - YOU WON'T BE DISAPPOINTED.
In Claddaghduff...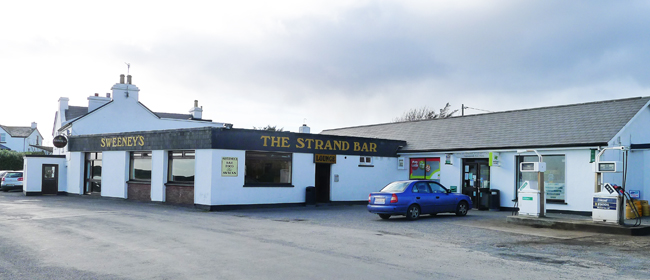 Sweeney's Strand Bar is right in the centre of Claddaghduff, and beside the well-stocked shop and Post Office, plus pumps for petrol and diesel, all run by Mary Sweeney and Malachy.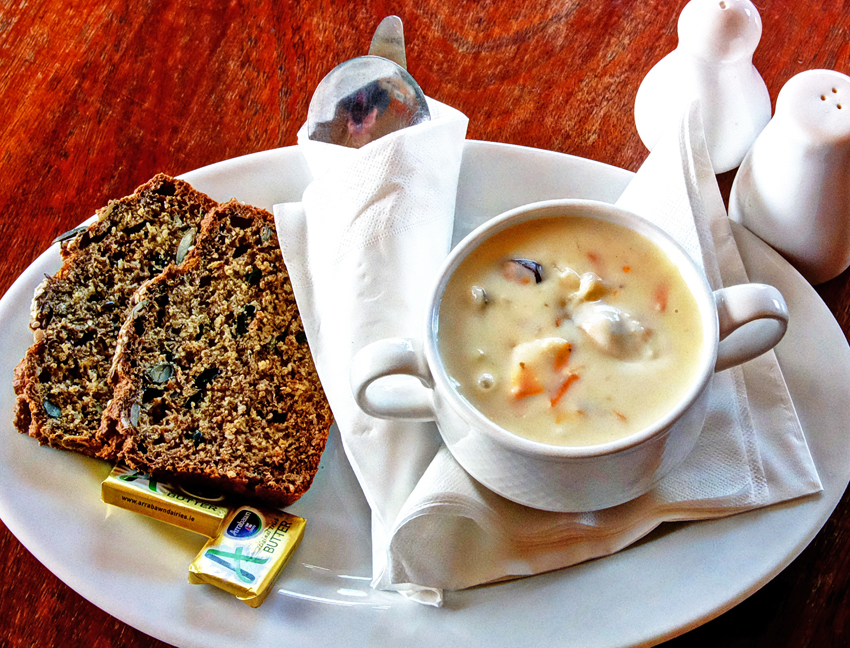 Sweeney's Bar serves a range of tasty food (from chowder to pizzas, lasagna to open sandwiches, chips and kids' menu items).
During the summer months (June/ July/August), food is served all day and evenings till 8.30pm. In September, when the numbers decrease, closing time for food is 5.30. After September, food choices are more limited and at times may not be available. If in doubt, check beforehand with the bar staff.

This is the view from Sweeney's Lounge overlooking Omey Strand and Island.


You'll also find Sweeney's mentioned below (under the "Entertainment" and "Provisions" headings).
Visit Sweeney's own website to learn more: www.SweeneysBarCladdaghduff.com

In Cleggan...
Oliver's Seafood Bar and Restaurant is renowned for its welcome and for the variety of services on offer, from bar food and drink, to its seafood restaurant, to entertainments, and its friendly and very good-value B&B.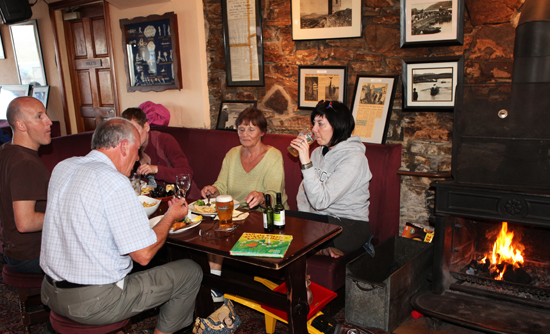 Oliver's Bar serves food the year round. Whatever the season, you will be able to order soup, wonderful Chowder, sandwiches, paninis, and specialities such as mackeral pate, smoked salmon, crab claws in garlic, and other delicious items from their bar menu (what they have on offer varies over time and depending on what is available); and at lunchtime, you can order from their more extensive lunch menu, with fish, crab, meats, salads...on offer.
expect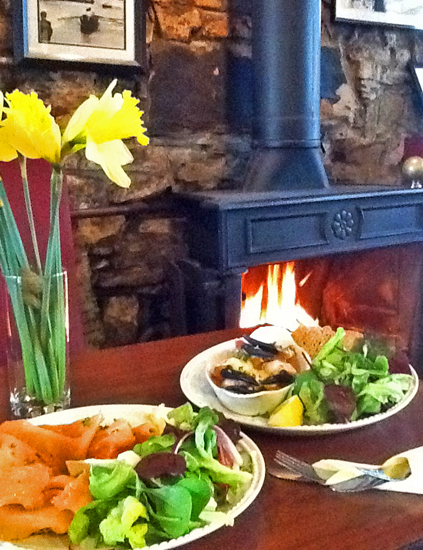 During the summer months, there's the option of eating in the bar, outside on the deck, or in the restaurant. Outside of the summer season, the restaurant itself is closed but you can still order food to eat in the bar.

It's a good idea to enquire beforehand with the staff, to check on the food choice available on the day. Like all food businesses, during 2022 has forced some restrictions at times.

At Joyce's Bar in Cleggan, The Crafty Crab offers delicious snacks and light meals during the late spring and summer periods - well worth checking out! (Closed in September).

The Harbour Cafe, also in Cleggan, offers takeaway food (fish and chips, burgers...) during the summer months. Check beforehand for opening times.
A new and very successful addition in the summer of 2022 has been Dooncastle Oysters, a food stall situated on the Streamstown road.

Note that all of the above wind down their food offerings some time in September. That's why you should check beforehand, especially after the end of August.