PRESS RELEASE
CLEGGAN POST OFFICE CLOSES AFTER DECADES OF SERVICE
29th August 2015
"An Post regrets to advise customers that this Postal Agency will close on Friday 28th August 2015."

This was the news that greeted residents of NW Connemara village Cleggan recently: their Post Office, which has served the people of Cleggan for at least four decades, was finally to close. It had been downgraded some years previously to the status of a Sub- Post Office, with no facility to offer full postal services. However, it had continued to provide Social Benefit payments to pensioners, those on disability payments, and the unemployed. Cleggan is a relatively isolated village; so the loss of these services locally represents a major blow to the village.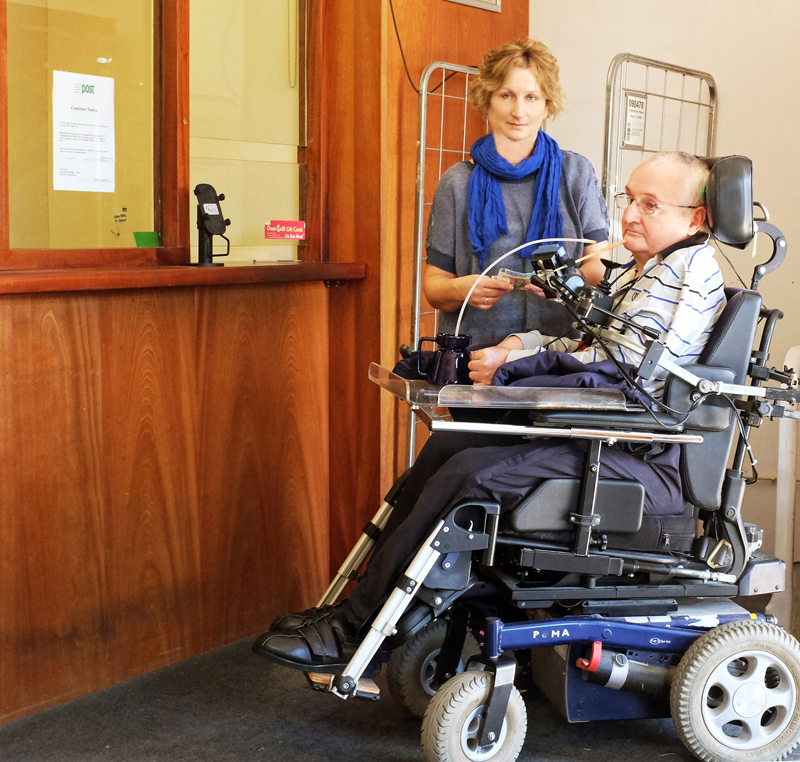 Marty Coyne is a quadriplegic, confined to an electrically operated chair, which he controls by means of a 'chin stick'. He collected his disability benefit for the last time on the evening of Thursday 27th August. "I can't get myself anywhere under my own steam", Marty says. "I've had to give Power of Attorney to my sister, herself a widow who doesn't drive; so I now have to find a neighbour who will be willing to pick me up and load me into their car and drive me to collect my benefit. It's a huge inconvenience - not just to me, but to the pensioners and unemployed of this area, most of whom don't have their own transport".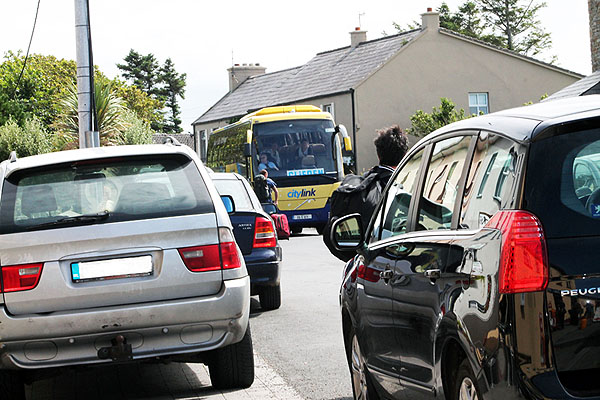 Cleggan has been something of an embattled village for some years. It has suffered badly from its roads and harbour area being completely clogged with cars and camper vans parked willy-nilly, while their occupants head for holidays to the nearby island of Inisbofin (the Bofin ferry operates from Cleggan harbour). Its National School is almost every year in danger of closure or downgrading, due to numbers falling below the magical figure of twenty - as pupils move on to secondary school and fewer and fewer families remain to feed new pupils into the junior classes. There is no bus service whatsoever to the next village, Claddaghduff, which is some three miles away and is the location of the nearest Post Office. The bus service in to the Clifden Post Office, nine miles away, is infrequent, and difficult for those who have a physical handicap.
The residents of Cleggan and its environs find it impossible to understand the decision by An Post, a decision "taken by some faceless person in An Post", as Marty Coyne says. The sub-Post Office has been located in a shop in the heart of the village, and operated by the shop-keeper, with no salary involved - merely a token payment, a matter of cents, for each benefit payment made. The cost of that payment cannot amount to more than a couple of thousand euro per year. Delivery of the cash to be paid out is presumably made by the same personnel as deliver the cash to Claddaghduff and Clifden. So the savings to An Post would appear to be minimal, whereas the inconvenience and distress caused to the people of the Cleggan area is enormous.

The shop is changing hands currently, with the previous shop-keeper moving on and the operation being taken over by another shop-keeper who already runs a shop further north, in Renvyle - a man with long experience in running an operation such as the shop and sub-Post Office in Cleggan. It appears that An Post has decided to take advantage of this change in shop-keeper to close the Post Office aspect of the operation.

"It was a hammer-blow to be told of this decision just ten days ago", says Marty. "I'm now asking An Post to reverse this decision, or at the very least to contact me, to explain why they've made this seemingly inexplicable decision".

Marty is not alone. The people of Cleggan and its environs feel the very existence of their village is under threat as a viable place in which to live. The downgrading of their Post Office, and now its complete closure, is a loss and a terrible inconvenience to all.
ENDS