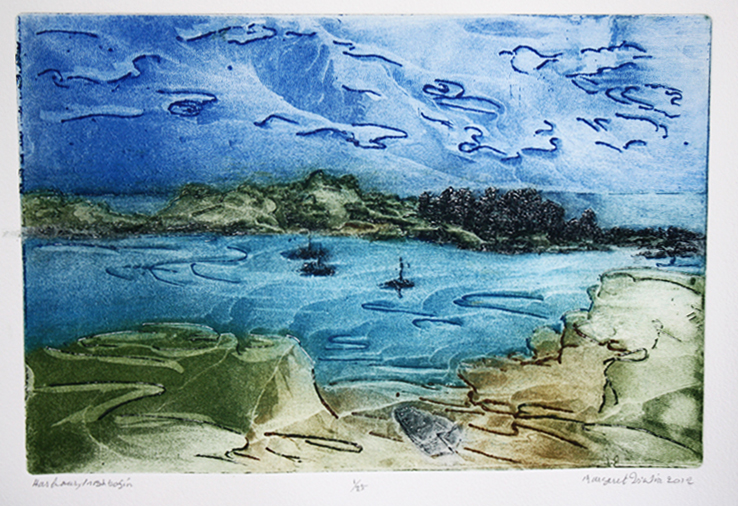 Margaret Irwin. Born in India of Irish parents, Margaret returned to Ireland at the age of nine. Her education led her to Trinity College, Dublin, where she studied Languages and Literature, followed by the History of European Painting. Margaret then chose to train as a painter in the Studio of Andre L'Hôte, Paris, over a three year period. She returned to Dublin and exhibited regularly in the major exhibitions of the time such as those of the "Living Art" and "Oireachtais". She now lives and works in North-West Connemara where she has a professional Printmaking Studio and is active in the life of the Arts Community.

Perhaps best known for her skill in etching (and working largely with themes from the early Christian era), Margaret has exhibited widely - too many to list here, but we should just say that her exhibtions date from 1990 to the present. She has won many awards -including, in 2008, a Lifetime Achievement Award from Galway County Council. Margaret's work is held in a number of both Public and Private collections in Ireland and abroad, including: the Department of Foreign Affairs, Dublin; Office of Public Works (OPW), Dublin; Galway County Council; Mayo County Council.
Learn more about this acclaimed artist at her own website, www.margaretirwinwest.com .
See a tiny selection of Margaret's work in the gallery below: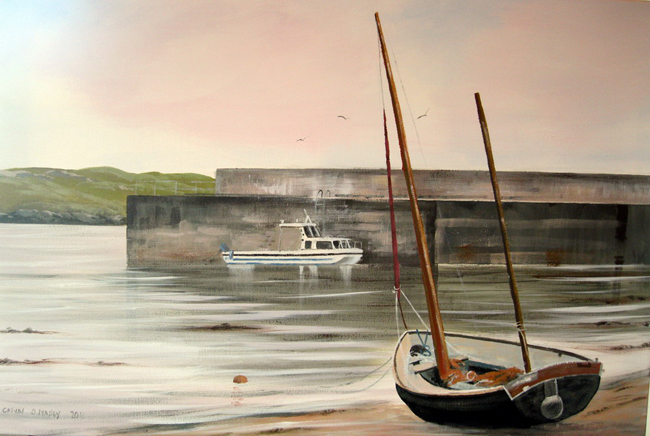 Cathal O'Malley is a well known artist who lives on the Aughrus Peninsula (near Claddaghduff). His evocative oil paintings hang on walls all around the world.
Cathal is an award winner for sales of his paintings on the well-known site ArtMajeur (click HERE to view his listings on that site); and he has his own website, www.CathalOMalley.com - do visit it to look at his wonderful paintings, almost all of which are of this area.
Some more examples of Cathal's work are in the sample gallery below: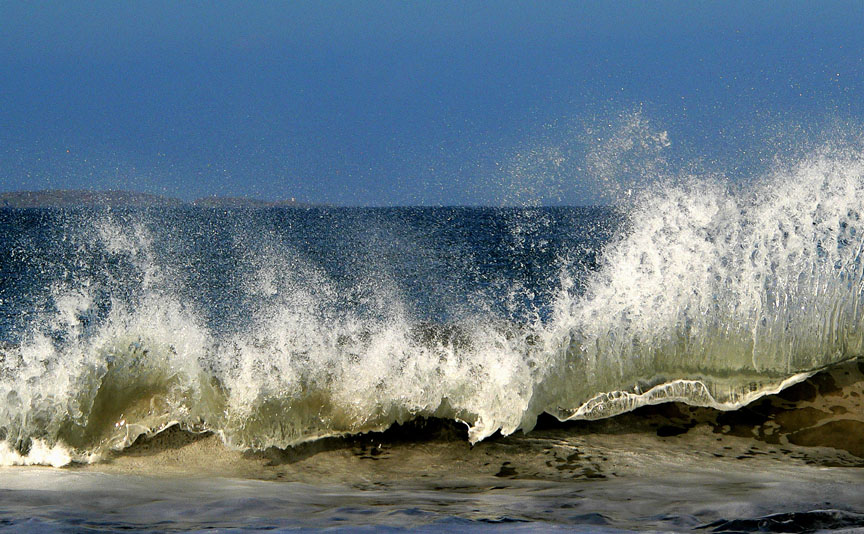 Heather Greer is a local photographer, whose images have been used extensively in books (for example, Discover Ireland's current Pocket Guide to the West of Ireland), on book covers, and elsewhere. She has held a number of successful exhibitions in Clifden (part of the prestigious Clifden Arts Festival) and in Galway City (Town Hall Theatre Gallery), and a selection of her framed photographs are always on sale in Oliver's Bar, Cleggan, and enlargements - from small to LAAAARGE - can be purchased on her website (see below). She also produces and sells a range of high-quality greeting cards, available in Sweeney's in Claddaghduff, in the shop in Cleggan, in the wonderful new ALL THINGS CONNEMARA in Clifden, in various outlets in Galway city, and on-line.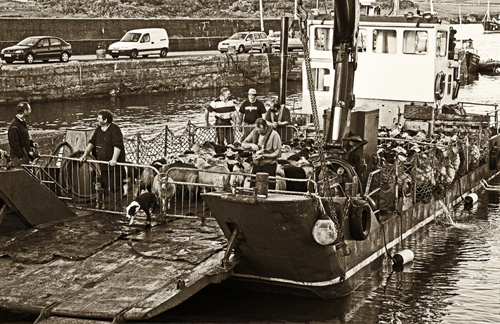 Another preoccupation of Heather's is social archiving, of images of this area, its people and their lives, work, activities, in the early 21st century. So much is still being lost: faces disappear, skills and activities pass....more photos than ever are being taken, yet more than ever will be lost to future generations. Heather started this project with a hardback photobook collection of B&W photos documenting various facets of the famous Omey Races You can contact Heather THROUGH THIS WEBSITE. The photograph above is of sheep being taken out from the now uninhabited island of Inishark, just off the Aughrus Peninsula, taken in 2012 in Cleggan Harbour. Heather is following this up and aims to produce, ultimately, from seven to ten such photobooks, as a complete record of "The Way We Live" in the 2010s.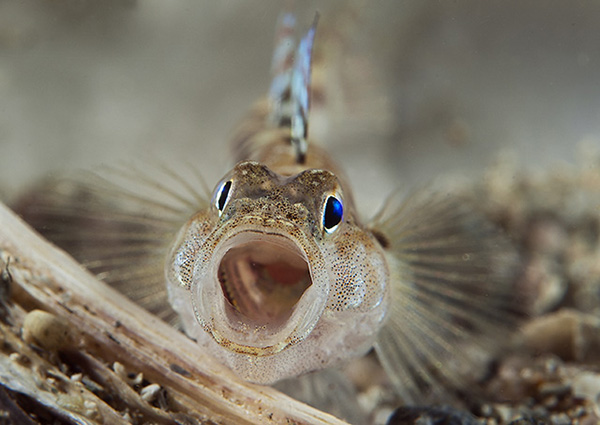 Mark Thomas i
s a gifted photographer whose actual home is in Northwich, Cheshire, in England, but as he says himself (see below), he feels his spiritual home is in Claddaghduff.
Mark's photographs show both landscapes and of scenes and life underwater; Mark is a scuba-diver, and he combines this hobby with underwater photography. The results speak for themselves, as you can see from the photograph of a Painted Goby fish, above. View more of his work by clicking HERE, to look at a gallery on this website, containing a sample of his work.
Mark himself writes: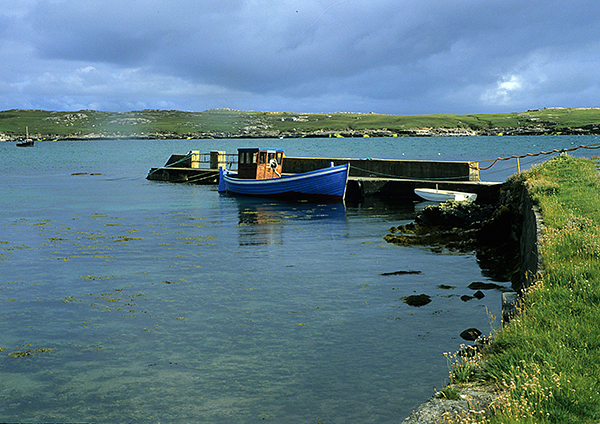 "Originally from South Wales, I live with my wife, Eleanor, in Northwich, Cheshire, where we both work for the NHS.
We first visited Aughrus in 1998 and fell in love with the spectacular landscape and wild Atlantic coastline. We've always been made to feel very welcome, so much so that Claddaghduff now seems like our spiritual home, a fantastic place to recharge the batteries.
We've been coming back with our two setters every year since - the Guinness in Sweeney's has a powerful attraction!
Two of my hobbies are diving and photography, and I try to combine the two while staying in Claddaghduff.
The west coast of Ireland has some of the best cold water diving in the world. Connemara is washed by the warm Gulf Stream, bringing with it a temperate climate and clear, nutrient-rich waters. This supports a rich and diverse marine ecosystem. I hope the photos I've included [see the Gallery on this website from
HERE
] give a flavour of the marine life that can be seen in a few meters of water, off the shores of Connemara.
The photos are from the Claddaghduff area, taken whilst diving around the pier at Aughrus, in nearby Streamstown Bay, and on the off-shore islands."

You can find more under-water and above-water photos from Connemara at www.marknthomasimages.co.uk, or (under the pseudonym of Danygraig) at http://www.flickr.com/photos/marknthomas; and you can contact Mark himself at mark.ellie@btopenworld.com.
Connemara Pebble Pots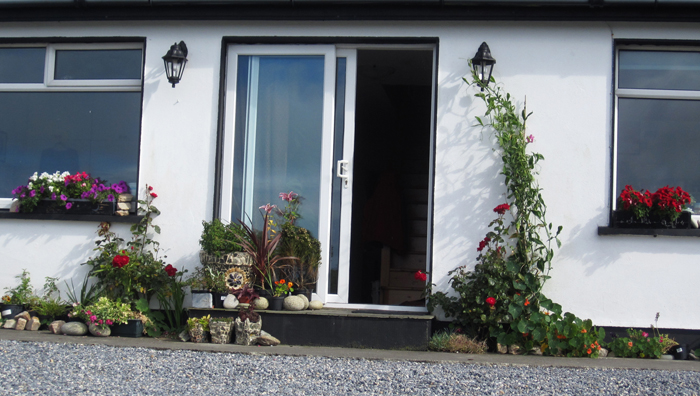 are hand-made on the Aughrus Peninsula, using locally sourced pebbles and the diverse, beautiful small shells over high-quality terracotta flower-pots of various sizes. Larger pots (made to order), filled with potted plants, make a great decoration of your front step, or on an indoor windowsill. Small pots (each of them unique in their design) can be used simply as decorations, or again can be filled with small plants, trailing or flowering.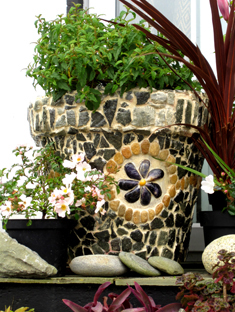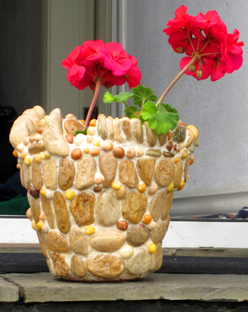 The examples on the left are all larger - they are quite heavy, need to be ordered and made for you specially, and probably are best if you're driving your own car. The smaller pots can easily be packed in your luggage or sent by mail. They are on sale in the fantastic new shop in Clifden, ALL THINGS CONNEMARA; or alternatively telephone Mary at (+353-0)95-44845 to find out more.
Sculpture/painting: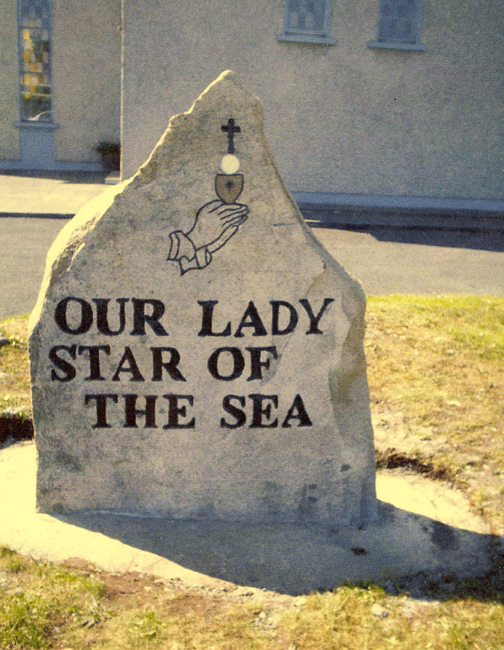 If you have looked around the Cemetery on Omey Island, you may well have noticed that many of the present-day graves are marked by beautiful head-stones hand-carved and painted with names, details and usually with pictorial motifs, on dark grey slate and other stone materials. And you may have noticed similar stone house-name markers on some of the houses on the peninsula.This is the work of Aughrus's own stone-carver (and painter), Terry Minogue.
Terry lives and works in the townland of Patches, just beyond the centre of Claddaghduff village.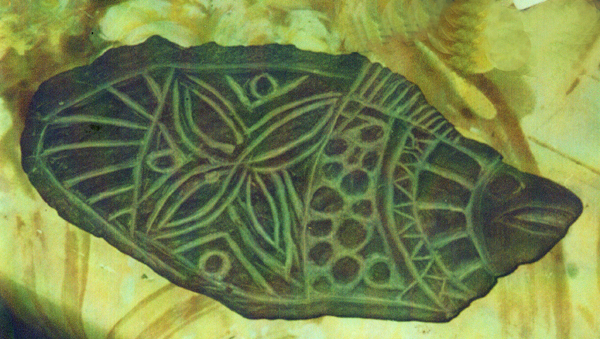 He's a veritable creative genius, and his work is much in demand. As well as headstones and house markers, Terry produces unusual stone work including carvings such as that shown on the left, and traditional Irish "Sheelagh-na-Gigs", based on the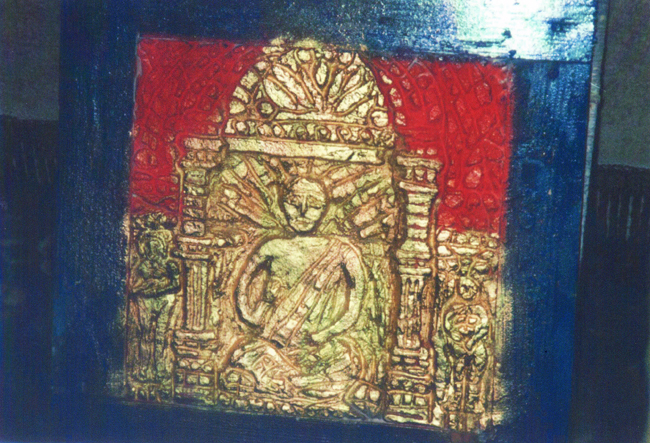 ancient semi-religious, semi-erotic stone works, usually regarded as being associated with fertility, from ancient times in Ireland; and many other works, including the coloured piece on the left. And you will find Terry's paintings in exhibitions on the peninsula and elsewhere, too.
To cap it all, Terry's a well-known mucician/singer-songwriter, and you may well come across him singing in a local session, or elsewhere, such as Achill or Inishbofin. So he's a well-rounded, creative man!
If you'd like to see Terry's work, or to commission a piece, contact him, on (+353-0)95-44002.

Maurice Gordon: Boat-builder and Model-maker: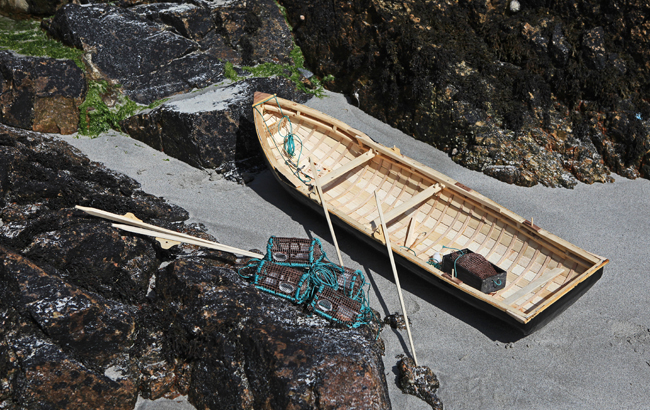 If you glance at the photo on the right (photos: Heather Greer), you could well be forgiven for thinking that this is a photo, taken from a cliff-top, of a brand-new six-oared traditional currach being readied for its first fishing expedition: fitted out with pots, landline, anchor, knife, ropes...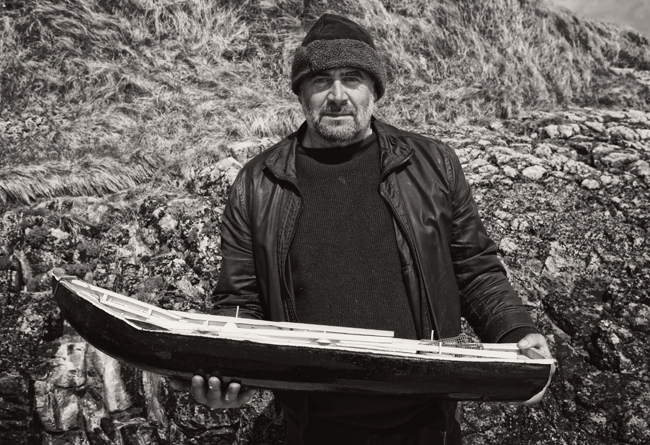 Wrong! The currach in question is about two feet long; the pots are maybe two and a half inches; and everything else, perfectly to scale. It is a little work of art, perfect in every detail.
It's the work of
Maurice Gordon
(left), from Aughrusmore - himself a skilled builder of full-size currachs, and a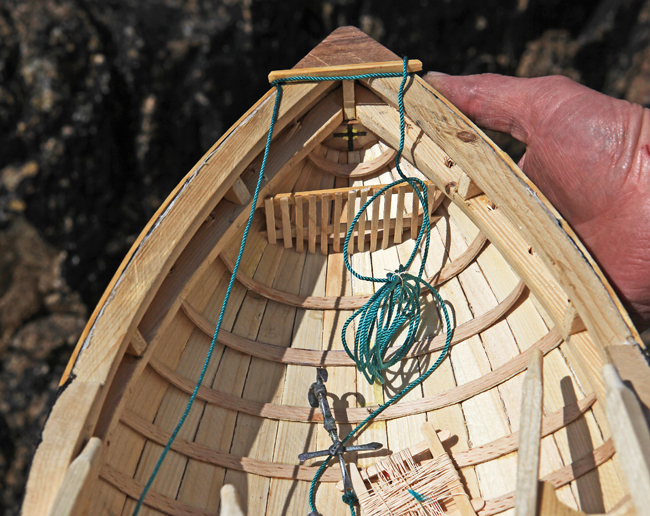 model-maker of extraordinary talent and patience, with an eye for detail. He makes every part - the currach itself; the thole-pins and oars; the lobster pots; knife; anchor; fish-box with nets; fishing line wound on a square frame... look up in the bow, and you'll find a hand-painted cross, by tradition painted in working currachs, for protection at sea. As you'll see in the gallery of photos, the wee currach even floats just as you'd expect a full-sized currach to float! I can't even begin to describe my own amazement at Maurice's work; Maurice is a big, powerful man, and I'm told that in glueing every plank in place, he holds the piece in place with his fingers till the glue has set.
Of course, Maurice also builds and repairs full-sized currachs - as do some others in this region, though it is a shrinking number who still have this skill. So he is well equipped to know every part and detail of these traditional fishing craft - generally speaking, found only in Connemara (with variants of the Connemara design also used elsewhere on the western seaboard of Ireland).

PLEASE NOTE:
MAURICE IS NO LONGER MAKING HIS MODEL CURRACHS
, AS HIS SKILLED HANDS TURN TO OTHER VENTURES. HOWEVER, WE JUST COULDN'T BRING OURSELVES TO TAKE DOWN THIS POSTING, BECAUSE WE LOVE THE MODELS HE
HAS
MADE, AND HIS SKILL AND DEDICATION.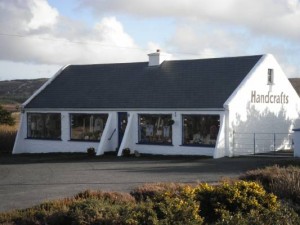 We mentioned Cottage Handcrafts above, in relation to Connemara Pebble Pots. As we mentioned, they are quickly reached by returning through Cleggan village to the N59, turning left onto the main road, and on for about 3km. Cottage Handcrafts are on the right-hand side of the road, in the most beautiful location (have your cameras ready!). In addition the the pots, they also stock photgrapher Heather Greer's range of greeting cards (see www.ConnemaraMagic.com). Their stock of presents, pottery, clothes, etc., is truly exquisite, and very, very good value. AND they operate a lovely tearoom, where you can enjoy a coffee and snack, or a more substantial meal looking out over the beautiful view of lake and mountain.
Click here to visit Cottage Handcraft's website; and DO pay them a visit - you won't be sorry.
While we're at it, we should just mention (again) a shop - and MORE than a shop; it's a kind of tourist information office, as well as an electric bicycle rental outlet) All Things Connemara, in Clifden. This shop stocks many of the arts/crafts items described above, and indeed arts and crafts from all over Connemara. Well worthwhile a visit when you're in Clifden!