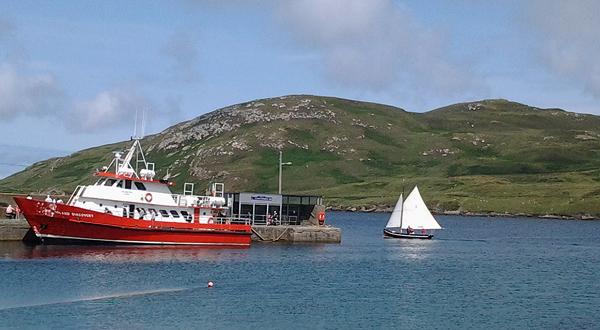 A TRADITIONAL SAILING BOAT BASED IN CLEGGAN!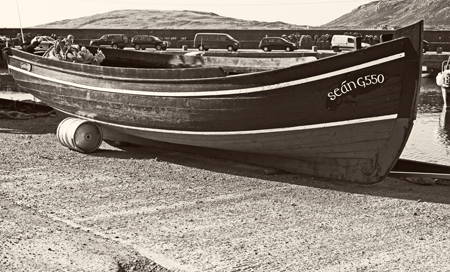 Many of you will have noticed the hull of a black traditional boat lying up on Cleggan Pier, over many years. This is the Púcán Seán; she was owned by Johnny King's grandfather, and used mainly for fishing. She was apparently built by a Larry Conneely, in Kingstown, south of Streamstown Bay.
For a wooden boat to lie ashore for any time is not great! The planks dry out, and there is always the danger of rot setting in.
About six years ago, Johnny spent a good deal of time and money in having repairs done to the Seán, but the years passed and she remained lying up.
Earlier in this summer (2014), a conversation between Johnny and myself (Heather Greer) resulted in an agreement that, if I were to put in the time and effort and investment needed to get her into the water as a sailing vessel, then Johnny (very generously!) would allow me to sail her as my own - though, having been in his family for such a long tome, ownership would always remain with Johnny King.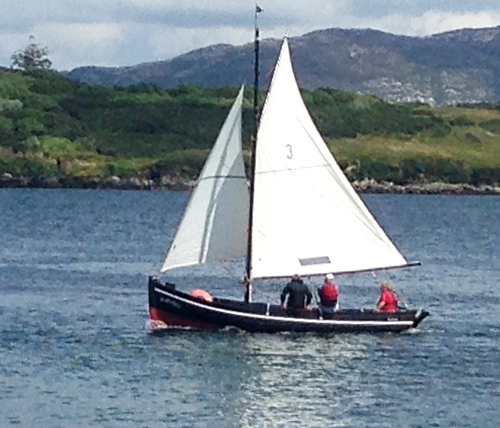 So it came to pass. After some months of hard work, with lots of help from local people and others, the
Seán
was made seaworthy, and fitted out as a traditional sailing vessel.
In the first week of August 2014, the Seán was launched, and a week later, she had her maiden voyage. I was accompanied by Nick Massey, who has given me such a vast amount of help and material support, and Nick's brother John - both of them good sailors. The Seán performed beautifully: sea-kindly and amazingly fast!
The original Púcán rig had a dipping lug mains'l and usually also a jib fixed to a quite lengthy bowsprit - needing muscle to handle! This rig, an 1896 design, consists of a gaff mains'l and single jib, with the possibility of hoisting a jackyard tops'l if brave enough... So the Seán is now more of a Gleoiteog than a Púcán, although a traditional Gleoiteog rig would have two jibs, the forward one on a bowsprit. The rig shown was chosen because I thought it would make for a kindly, well balanced boat, easy to handle single-handed. And the rig design is in fact older than the Seán herself! I stepped the mast - supported by fore and side stays and runners aft - about 18 inches forward of the original step, in order to achieve the correct distance between jib tack and mast.

Maybe in the winter we'll manage to have the terylene sails dyed the traditional colour; but she looks well just as she is, I believe.

So now we have a traditional sailing boat, based in Cleggan! We hope not to stop there; we have hopes and ambitions to see other traditional boats in Cleggan, and we would love to see a revival of interest among young and old alike in the skills and traditions of sea-faring: rowing, sailing... So: watch this space!
See below for a small gallery of photos of the Seán's first sea-trials under sail.