"THE BUTTON BOX" - A MAGICAL MUSIC & DANCE SHOW!
BY
CLADDAGHDUFF & CLEGGAN NATIONAL SCHOOLS:
FRIDAY 13th JUNE 2014, CLADDAGHDUFF HALL, 8.00pm
PHOTO GALLERY BELOW!!!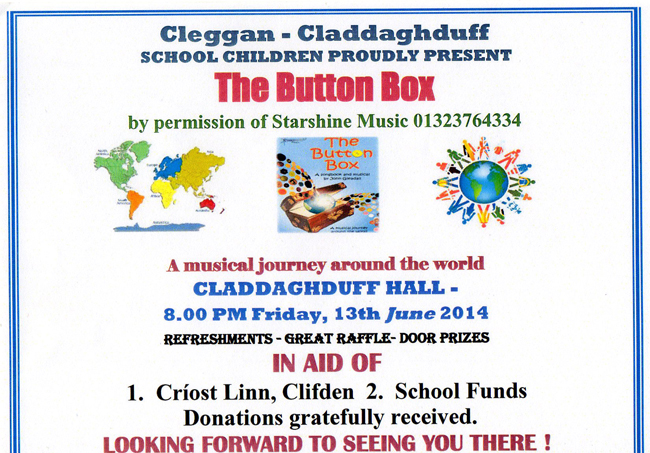 Pupils from Claddaghduff and Cleggan National Schools, with music teacher Mrs Breda O'Toole very centrally involved, worked on this ambitious project for a full year! "The Button Box", on the night, was a wonderful show - involving a great series of music, songs and dance, from a wide variety of countries including Jamaica, Africa, India, China, Australia, and of course...Ireland. Breda tells us that THE BUTTON BOX is the most ambitious project she has worked at so far with the children from the area.
36 young actors/actresses from the schools rehearsed hard for the night. For the show, they were wearing sumptuous brand new costumes specially bought in for the performance; a new stage (with an extension to accommodate the dancers) was erected; and the whole Hall was decorated for the occasion.
The Hall was packed to capacity, and everyone there was enchanted by the performance.
Read what Music Director BREDA O'TOOLE wrote about the show:
Button Box Musical Production
by permission of Starshine Music 01323764334
"Friday June 13th 2014, thirty six national school children from the Cleggan/Claddaghduff area enthralled a massive audience with their magical performance of the Button Box Musical.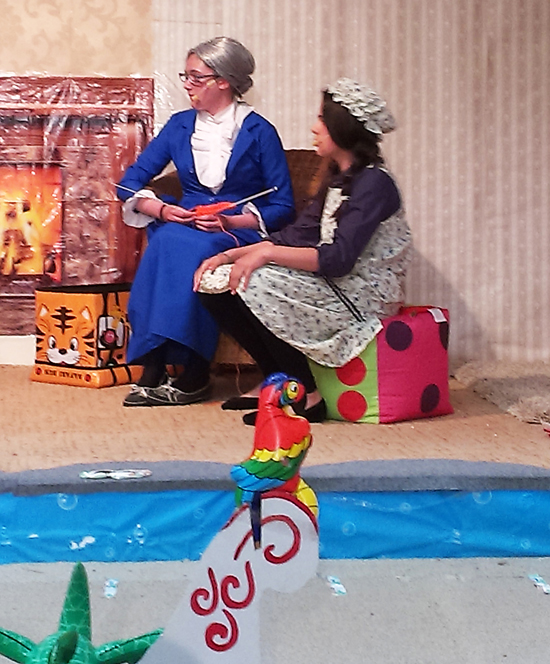 "The story revolves around two children who visit their grandparents on a rainy day and by chance discover their grandfather has not only travelled the world but has brought home a button from each country he visited. Immediately, the audience are transported through enchanting scenes of music, dance and drama to countries such as Africa, India, China, Jamaica, Australia and Ireland. The applause was rapturous; everyone was touched and moved to what was later described as a "professional, spectacular show!"
"How thrilling to experience the giftedness and talents of primary school children who carry within them such high standards of ability and performance. A truly memorable night was enjoyed by all as the incredible feedback that went on for days confirmed. To round off the night and in true community spirit, there was a tea party in the hall afterwards amidst great excitement as twenty lucky raffle winners came forward to receive their prizes. Two days later the children proudly presented €1000 donation to Criost Linn from the proceeds, with contributions also going to both national schools in the area.
"Our thanks to all who supported the event and who helped in any way, especially:
Cleggan Claddaghduff Community Council,
Cleggan Claddaghduff Lotto,
Mr Lawrence Conneely & Claddaghduff Community Hall Committee.
Mr Maurice Gordon and Mr Terry Minogue who erected the stage.
Ms. Grainne O' Malley & Connemara Community Radio
Mrs Marie Feeney - Joyce & Forum - Letterfrack
Mr Mike O' Malley - Sound and Lighting
Mrs Rebecca Walsh - Costume Manager
Mr Cathal Ryan - Ability West & Criost Linn, Clifden
Mr Richard Conneely - DVD & Photos
Ms. Heather Greer - Advertising
Car Park Attendants: Mr Jack Walsh and Mr Alan de Lappe
For their wonderful assistance: School Teachers: Mrs Marie Bourke, Mrs Eileen O'Malley-Mannion,
Mrs Mary Aspell, Ms Bairbre Ni Chonchubhair.
Kylemore Abbey, Mrs Nancy Duffy, Mrs Jackie Hannon who provided beautiful hampers.
Clifden Supply Centre, Sweeney Oil and to all the people and businesses too numerous to mention who so generously donated raffle and door prizes.
A big thank you also to all who helped and provided refreshments on the night.
In a heartfelt way to everyone involved - your never-ending support and help is much appreciated.
Mrs Breda O Toole- Music Director"
As Breda O'Toole writes above, the week following the show, Marie Bourke, principal of Claddaghduff National School, and the outgoing sixth class, handed over a cheque for €1,000 to Críost Linn (Clifden-based, under the aegis of Ability West), plus a cheque to the Parents' Association; and we understand also that a cheque was passed to Cleggan National School also. So it wasn't just a wonderful night; lots of people and good causes benefitted.
Well done all around. TO HAVE A GLIMPSE OF THE EVENT, BROWSE THE GALLERY BELOW (PHOTOS FROM THE SHOW KINDLY PROVIDED BY TINA SHANNON; PHOTOS OF THE CHEQUE HANDOVER EVENT BY HEATHER GREER):