BITS AND PIECES FROM 2013

OMEY RAMBLERS
21st September 2013 - OMEY ISLAND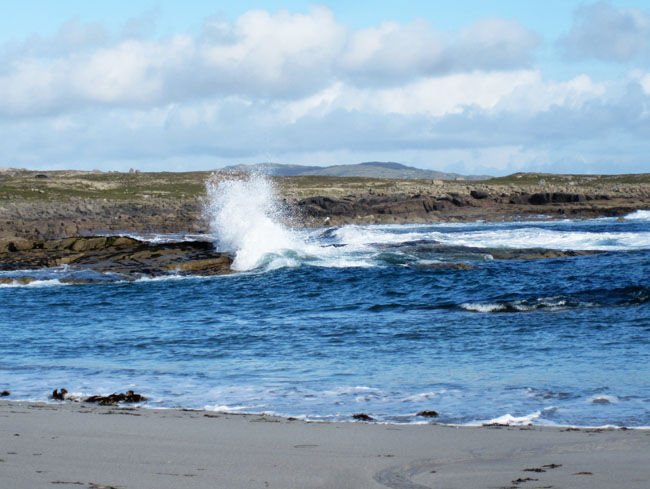 Word has it that a Certain Person is celebrating an Important Birthday on this Sat the 21st. To celebrate it, the OMEY RAMBLERS are circumnavigating Omey Island - a gentle and lovely approx 3 hour ramble around the island.
Low tide on Saturday is at 1.00pm. All are welcome (dogs on leads, though!). The organisers have suggested leaving from Sweeney's at 1.00 - we suggest you get yourself along to Sweeney's by around 12.00 to be sure not to miss the start - you can always have a bracing coffee while the gang musters.
AND there will be further celebrations later on that night, at Oliver's. Be there or be square, as they say... Oh, and happy birthday on Saturday, Mike!
TRAFFIC CHAOS - AGAIN! -

IN CLEGGAN DURING THE HIGH SUMMER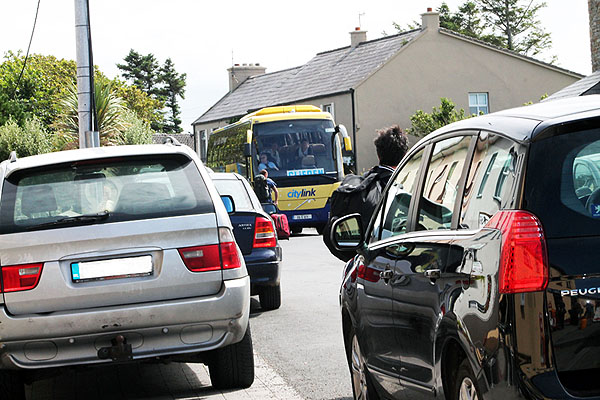 Once again, the parking in Cleggan during the busy months was appalling. It got everyone down, with visitors often simply dumping their cars wherever they felt like it - whether or not it blocked businesses, residents, the bus or the harbour area and road - and heading off to Inishbofin for days or weeks at a time.
The Citylink bus was unable on many occasions to reach its parking area, or if it did, to park there. Some days, it was held up for more than 30 minutes (adding a third onto the total Cleggan-Galway journey time and sometimes taking away completely the mandatory 30-minute break which drivers must take during some of the daily journeys).
An article on page 2 of the September issue of the Connemara Journal raised awareness of the problem, and along with it, a head of steam that won't go away till something is done about this annual problem! Click HERE to read the article on the Connemara Journal's own website.
The problem remains, even as the tourist season winds down, in September. On Tuesday 10th September, a tour bus leased from Kerry Tours attempted to park up immediately outside of the shop in Cleggan - completely taking up the temporary parking for shoppers. 'Run' from there, it then tried to park outside De Courcey's rear garden and parking area, completely blocking the access road and the gate. When addressed, we hear that the driver 'got thick' with the complainant!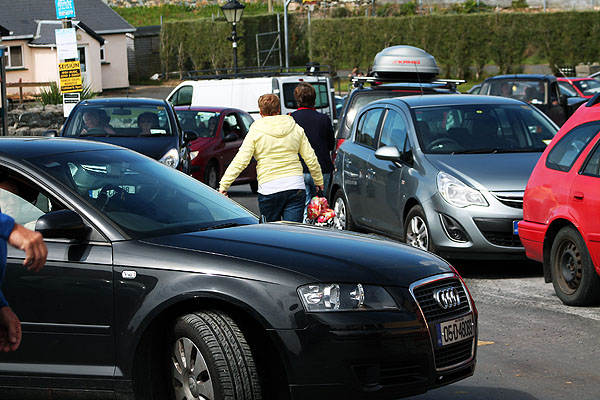 This is an issue that isn't going to go away, and Galway County Council should take note of this. Unless something is SEEN to be done - DURING THE OFF-SEASON MONTHS, AND BEFORE THE NEXT TOURIST SEASON - sitting Councillors and TDs for the area had better not expect too much support at the ballot boxes. It's grand to spend the money on a useless Airport-To-Nowhere! Fixing this problem so that Cleggan could function properly as a working village would NOT be costly - and with a bit of will, it could be fixed quickly. Useless for the County Council to hide behind an excuse that they must put an 'official' carpark in place before they act: they already have all the powers they need to regulate parking to everyone's satisfaction, under the Local Government Act.
Sadly, so far it seems that (apart from the excellent work done by the Roads Dept, in fairness) Cleggan is the Forgotten Village on N.W. Connemara...
Have a look at the chaos in the photo gallery below - photos kindly provided by Kathleen De Courcey, a resident in Cleggan village:
SUMMER TRAD SESSIONS IN OLIVER'S ATTRACTED A MULTINATIONAL AUDIENCE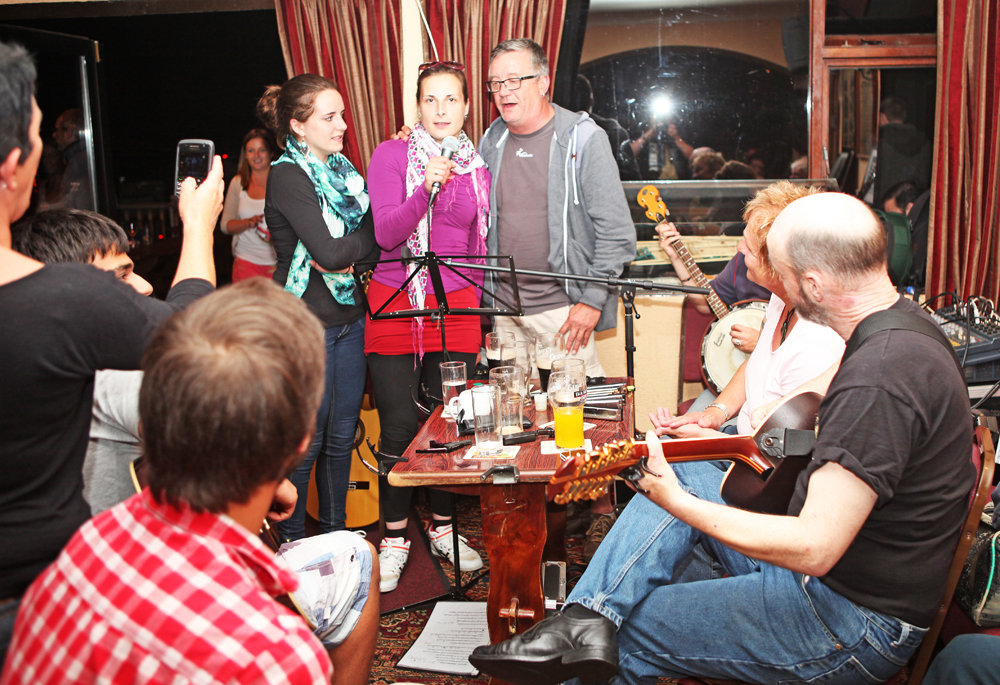 The annual summer sessions in Olver's Bar, Cleggan, attracted great audiences each week - with many local people joining the visitors from Ireland and abroad, not only to watch and listen, but to join in the singing and playing.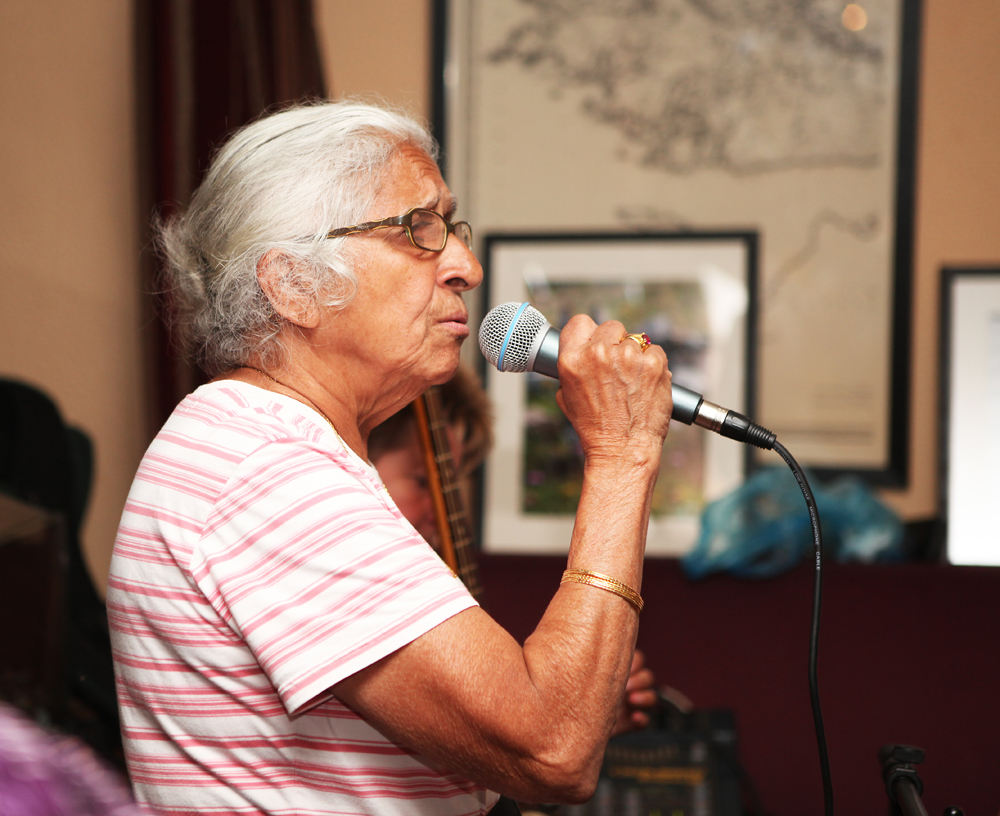 Joining the weekly group of local musicians Heather, Mary, Tony, Alan and Sean (brothers Tony and Sean are from East Galway but play regularly with Mary and Heather) were many other local musicians and performers, including Terry Minogue, Jackie and Alice Hannon, Karen O'Toole, and the inimitable Peter Higgins of Oliver's itself. AND...the group was joined by a host of singers and musicians from countries including Canada, France, Germany, India, Switzerland and the UK. All good fun!
Browse through the gallery below to have a glimpse of the craic that was had by all:
CLADDAGHDUFF SCHOOL CELEBRATES 50 YEARS!
Friday 6th September 2013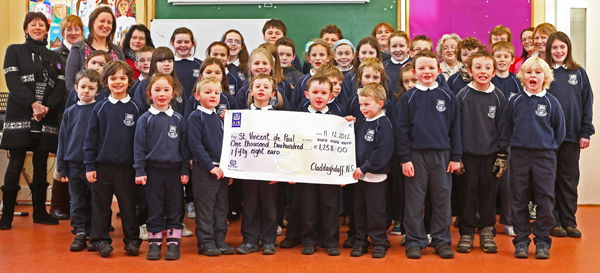 The photo (right) shows a group of the pupils of 2012 in their school, Scoil Mhuire gan Smal in Claddaghduff (on the occasion of their presenting a cheque to Vincent de Paul); it shows just how vibran
t the school is, and what an asset it is to the community.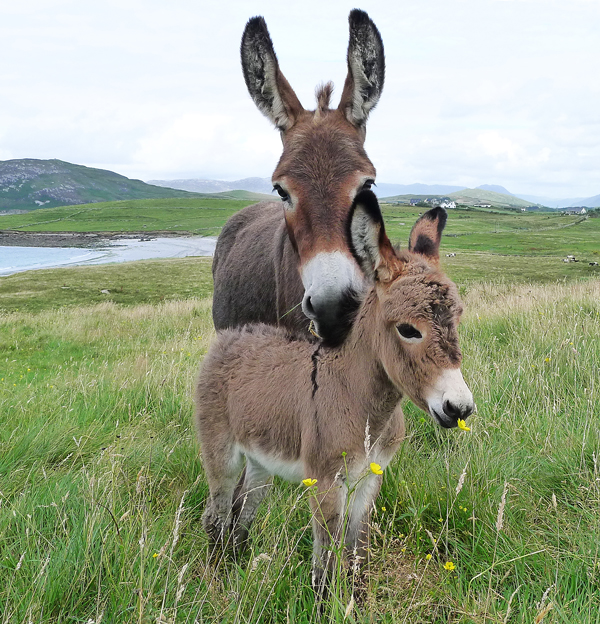 August 2013:- Paul Needham's new arrival! His donkeys, kept in a field overlooking Sellerna beach, produced a brand new donkey foal this month (August 2013). She is just gorgeous, as any of you who visit our Facebook Page will already know. Here's a small selection of photos of the new arrival, and her Mum:
Plaque to Edward A Bodkin - killed in 1829 - rediscovered at Streamstown: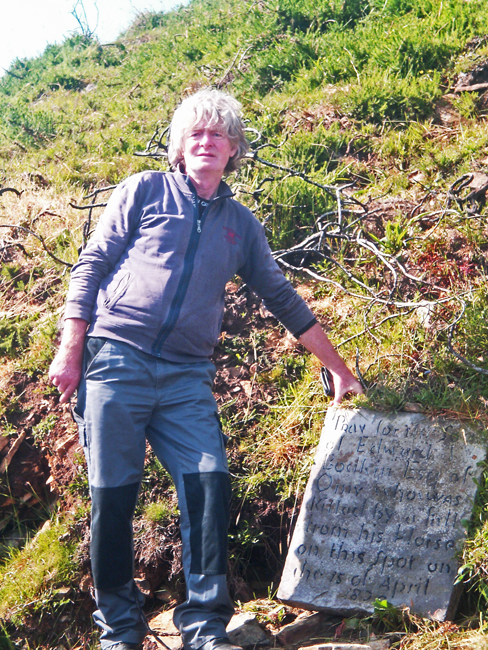 Here's an interesting story, printed in the August edition of that grand monthly, the Connemara Journal. It concerns the rediscovery of a stone plaque near the Streamstown shore, erected to commemorate the death of one Edward A Bodkin (the Bodkins were one of the "Tribes" of Galway), of Omey, in 1829.
Read all about it in Heather Greer's article, with photos by Sean Geoghegan (including the one to the right of Terry Minogue, who restored the plaque), in the Connemara Journal archive for August 2013 - click HERE to go right there.