I
THE HIGHEST ACADEMY GRADES FOR YOUNG CONNEMARA PIANISTS!
In December 2012, twenty-seven candidates from West Connemara were awarded
high grades and certificates, in the Royal Irish Academy of Music (RIAM) exams.
Sitting the exams from Elementary Grade right up to Grade Seven, ten students
were awarded Distinctions (90% - 100%); thirteen students Honours (80% - 90%);
and four candidates received Merit Awards (75%-80%). This is a wonderful
achievement for the young musicians of the area!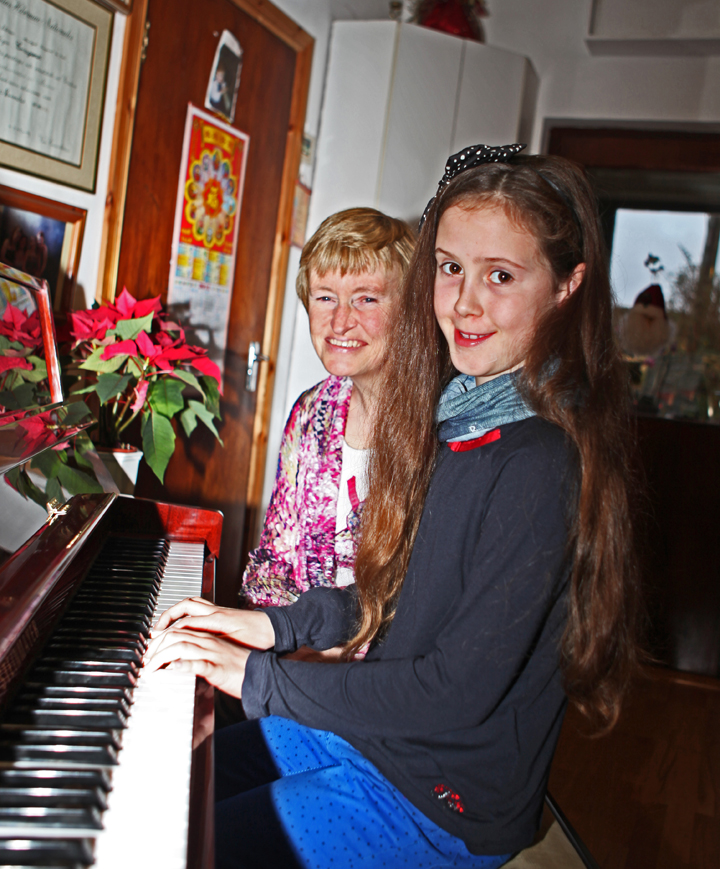 The Local Centre for this round of RIAM exams was

conducted, for the seventh year in succession, in the

Cleggan-Claddaghduff area.
It was the culmination of long hours of hard work on the
part both of the students and their patient teacher, Mrs
Breda O'Toole (right) - herself a skilled multi-instrumentalist
and well known also for her abilities with the organ, at
Church services in the locality.

Her abilities as a music teacher are well known

throughout Connemara.

The standards set by the RIAM are demanding! The syllabus included three set
pieces, a wide consortium of scales, sight-reading, theory and a variety of aural and
observation tests based on memory, rhythm and sight-singing. An examiner, Ms
Cora Clarke, appointed by the Academy travelled from Dublin for the occasion.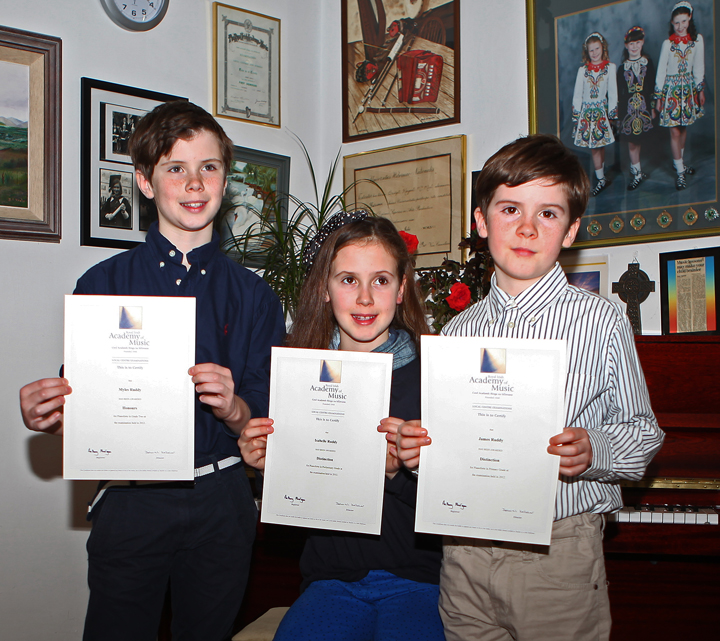 The RIAM, based in Dublin, has maintained the
highest standard of teaching and
performance for more than one hundred and

fifty-five years. Countless numbers of
distinguished musicians have received their

training at the Academy, which offers a

full range of musical subjects, and speech and
drama, from beginner to diploma

standard and graduate and post-graduate level.
For a variety of reasons, the piano is arguably the
best instrument for getting to grips


Three graduates from the same family! (left)
with all aspects of music theory and practice. A skilled pianist can either progress to
the highest levels on the piano itself, or can apply the knowledge gained in mastering
any other musical instrument. So a good grounding in the piano can lead to an
extremely varied lifetime of musical performance.
Surely the long heritage of musical ability lives on, in the achievements of our young
musicians. We may well have more than one budding musical star in our presence!
Heartiest congratulations to all.
The full list of those who took the exams and gained these superb grades is as
follows (listed alphabetically by first name):
Aebhín Sheridan – Renvyle

Aileen Joyce – Clifden

Alice Hannon – O'Toole – Claddaghduff

Anna Shanahan – Cleggan

Ashley Flaherty – Clifden

Branwen O'Halloran – Ballinakill

Caroline Conneely – Aughrus

Céiti Daly – Claddaghduff

Clara Mongan – Roundstone

Hilary Joyce – Claddaghduff

Hugh Manley- Claddaghduff

Isabelle Ruddy – Ballyconneely

James Ruddy- Ballyconneely

Jennifer de Courcey – Cleggan

Katie Flaherty – Clifden

Leah Dyck – Claddaghduff

Maeve Vaughan – Clifden

Manon West – Claddaghduff

Michelle Craughwell – Galway

Millicent Marinot Wood – Streamstown
Roisín Gavin – Kingstown

Muireann Mc Glynn - Clifden

Myles Ruddy – Ballyconneely

Niamh Shanahan – Cleggan

Orla Sealy Phelan – Moyard

Ríona Coyne – Renvyle

Saoirse Newman – Cleggan

Click HERE to return to the "2012 - Past Events" page.