THE OMEY DASH TRIATHLON 2013
Saturday 27th July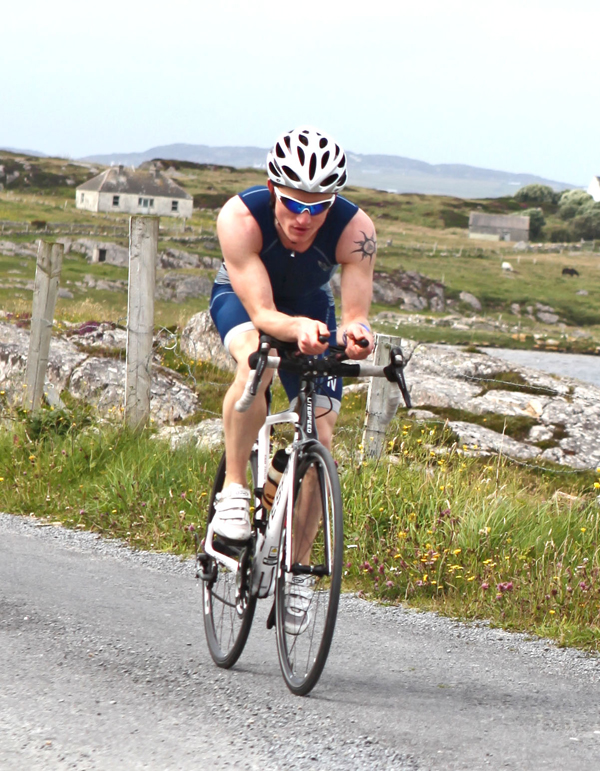 The
Omey Dash Triathlon
- a serious triathlon for serious athletes - takes place again on the Aughrus Peninsula for the third year running, on Saturday 27th July.
This year, the Omey Dash takes place totally under the aegis of TRIATHLON IRELAND, the umbrella body for all thoroughly organised and supervised triathlons in this country. This means that:
Jonty Daly, 2012 Omey Dash winner, on the cycling leg

- Registration is being handled by Triathlon Ireland (click
HERE
to register)
- The course, and all of the management and safety arrangements, have
been approved and are overseen by Triathlon Ireland
- The course staff, in every aspect of the event, have received rigorous
training from that body
- Race times and placings will be recorded in accordance with Triathlon
Ireland's well-tested principles and procedures; and they will be
available for all, right after the race, on the Triathlon Ireland website.
The 2013 race map (the course has been fully approved by Triathlon Ireland, of course!) is below, and you can download the map by clicking the download link at the bottom of this page.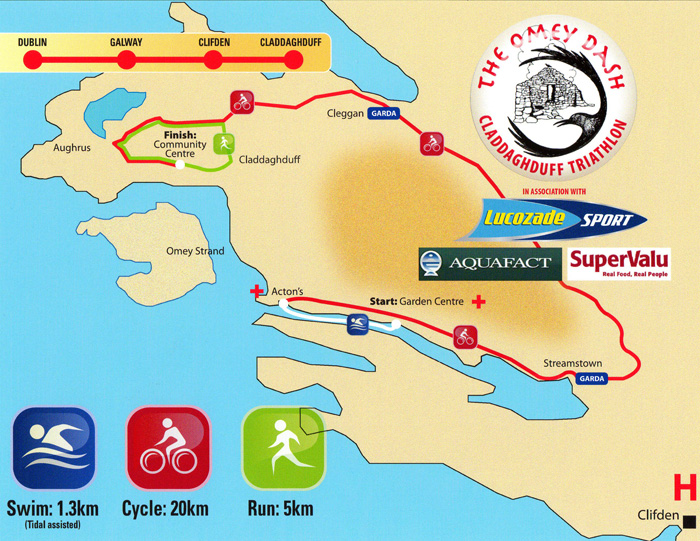 We will shortly publish on this page the local information competitors may require on the day of the race itself - such as where to go before the race; where to store personal effects during the race; announcement of results (which will of course alsobe published on the Triathlon Ireland site); presentations of trophy and medals....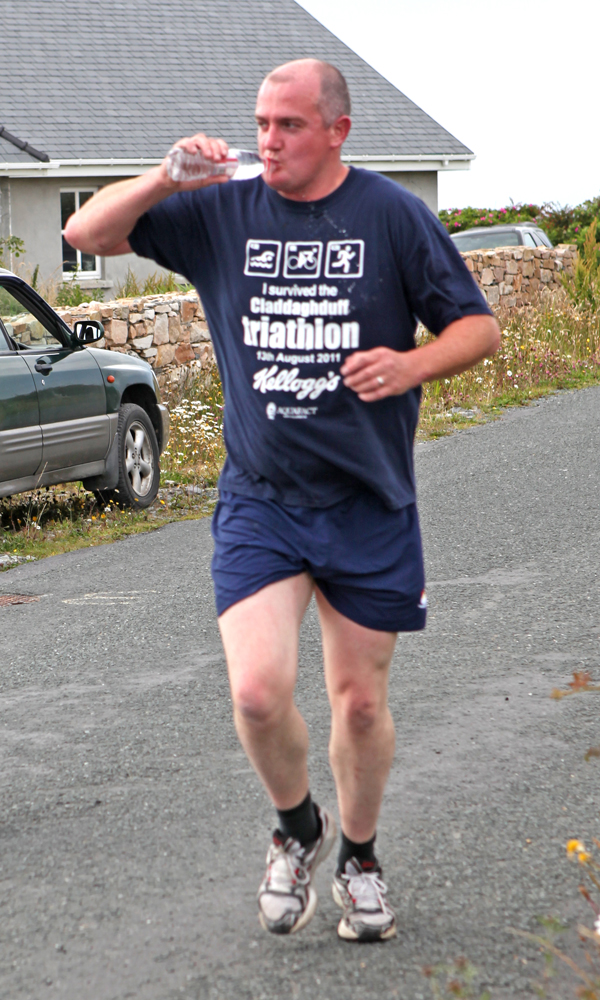 ON THIS SITE YOU'LL FIND COMPREHENSIVE INFORMATION ON THE AUGHRUS PENINSULA ITSELF, PLACES TO STAY, EATING AND DRINKING, ENTERTAINMENT...

THERE'S SO MUCH TO DO HERE, FOR ALL THE FAMILY! SO WHILE YOU'RE OFF SWIMMING/CYCLING/RUNNING, YOUR FAMILY AND FRIENDS CAN BE RELAXING ON ONE OF THE LOVELY GOLDEN BEACHES. AND WHY NOT MAKE A WHOLE WEEKEND OF IT? YOU WON'T REGRET IT...
To register for the OMEY DASH triathlon, click HERE to go direct to TRIATHLON IRELAND'S own website.
Click on the link below to download an A4-sized course map for the 2013 Omey Dash: