DUSTY BANJOS TRAD MUSIC WEEKEND CLEGGAN
JUNE 22-24 2012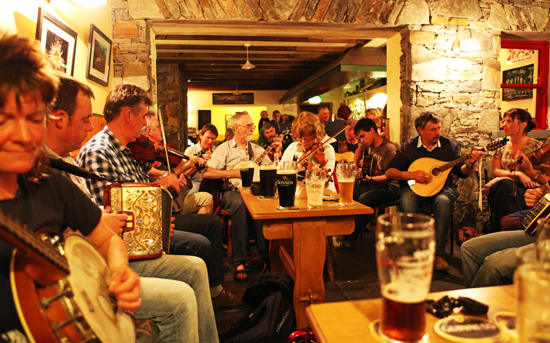 The 4th annual Dusty Banjos Traditional Music Weekend took place again in Cleggan, on 22 - 24 June. The weather was mixed but mostly dry, and we even saw quite a lot of warmth and sunshine, especially during the 'stayers-on' session on Oliver's deck, on Sunday afternoon.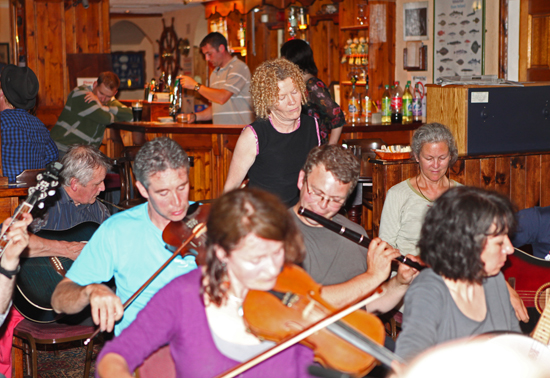 40+ musicians, singers and dancers came and took part, from all over Co Galway and Galway city, with a good few local musicians, singers and dancers as well! It was good fun.

This weekend represents the well-known Dusty Banjos (now in its 10th year) 'wind-down' for the summer period, which meant that everyone was in great party form, and the music was hot and heavy and looooong!
Browse the photo galleries below, to get a flavour of this (by now, very well-known) annual event on the Aughrus Peninsula.
NEWMAN'S BAR, CLEGGAN - FRIDAY NIGHT 22 JUNE:
OLIVER'S BAR, CLEGGAN - SATURDAY NIGHT 23 JUNE
OLIVER'S BAR, CLEGGAN - SUNDAY 24 JUNE AFTERNOON:
The Connemara Journal (July edition) wrote a grand article on the Dustys Music Weekend in Cleggan - click on the link below to download a copy of the article: