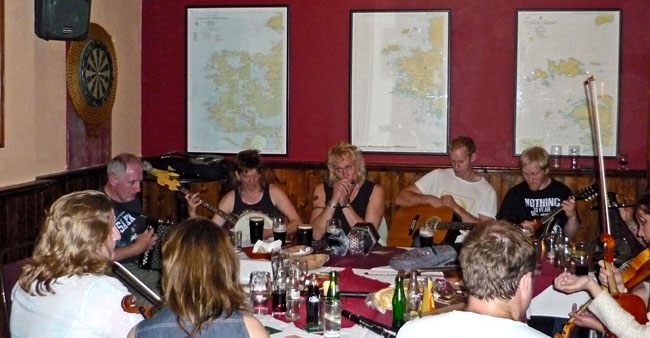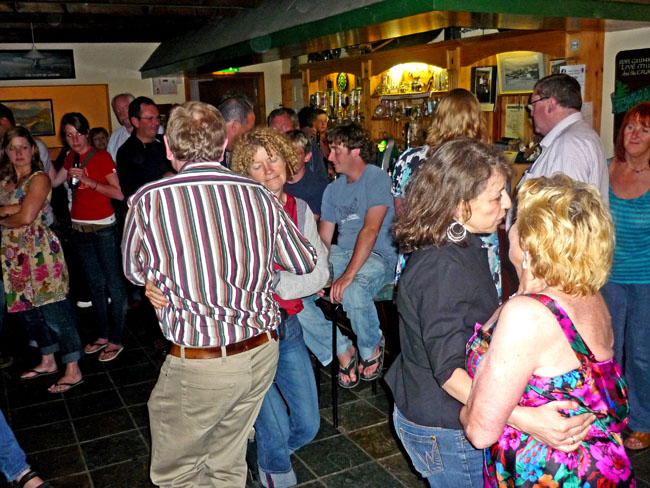 The DUSTY BANJOS CLEGGAN MUSIC WEEKEND (this year it was 19/20 June 2015) is a great annual favourite - with many visitors from different countries and from Galway and other parts of Ireland making their plans in order to take in the fun and the music and song and dance.
Dusty Banjos is a well known organisation run by Cleggan locals Mary Lovett and Heather Greer, aiming at encouraging and helping adult learners of Irish traditional music to find a space where they can enjoy learning and playing with others. You can read more about Dusty Banjos at
www.DustyBanjos.com
, and about Mary's and Heather's books and CDs at
www.irishTunebook.com
.
Each year they organise a weekend of music and song - usually with some dancers from among the talented local performers - over the weekend of the 'longest day' - the third weekend in June. 2015 saw us organise the SEVENTH Cleggan Music Weekend. And this year it took place on FRIDAY 19th June and Saturday 20th June.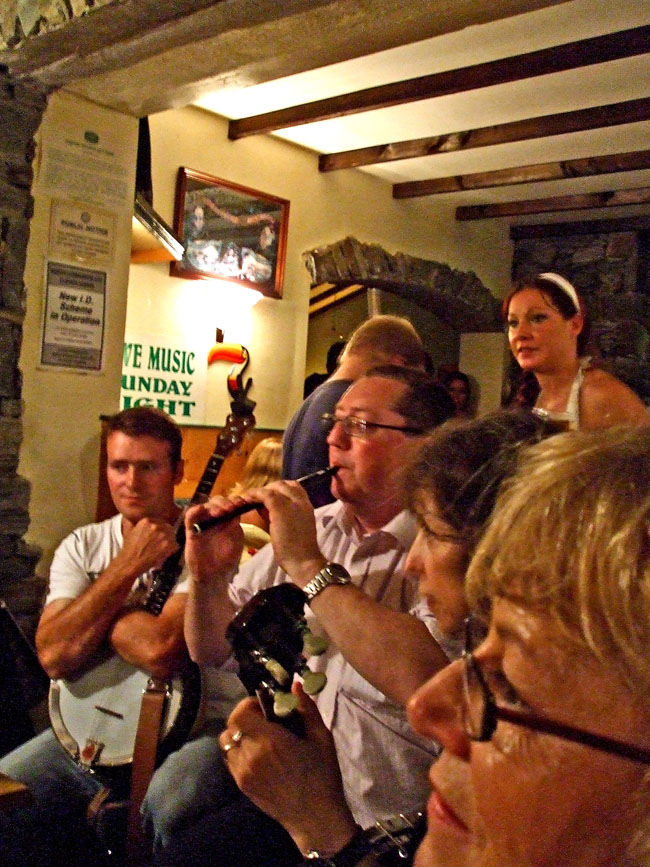 It has become a custom that the session on the Friday night takes place in Newman's Bar, from 9.30pm. Richie Newman is himself a talented and a dedicated musician and singer, and it's always a grand night. The pub is filled with musicians and singers, and a grand night of fun. Richie and Bernie and staff laid on sandwiches and finger food, which was very welcome!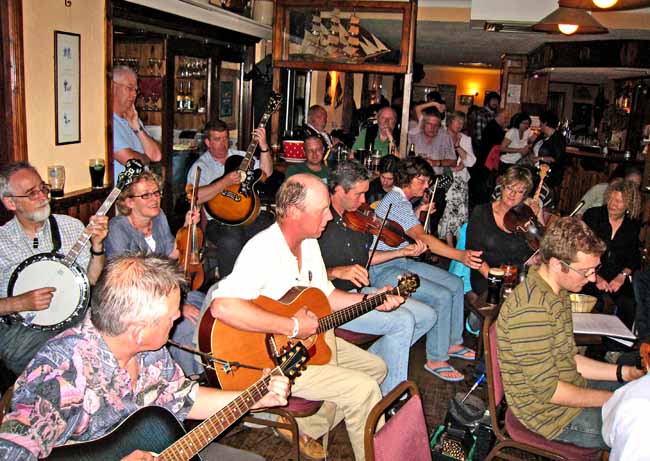 It's also a custom for the Saturday night session to take place in Oliver's Bar, from 9.30pm. To the left, you see proprietor Peter Higgins joining in the music on guitar.
And there are usually impromptu music sessions during the afternoon, in Oliver's or around the village. This year, an impromptu session took place during the Saturday afternoon, in Sweeney's Strand Bar, Claddaghduff, to everyone's great enjoyment.
It's a grand night. No one gets paid. The aim is enjoyment and spreading the joy, and indeed kicking off the summer season on the Aughrus Peninsula. And we had a grand weekend of it this year, too!
Visiting musicians and singers are always welcome. This year, we welcomed Patti and Keith Brown from the UK, with their accordions; Celia Wojnic, from the SW of England, with her whistle; Dave and Keith from Hayling Island, England (Mary and Heather, the Dustys organisers, enjoyed a great singing and 'jam' session with Dave and Keith in Sweeney's, on the Monday night); and, as usual, our great friend Willi from Düsseldorf, who sang great songs on the Saturday and Sunday night sessions.
Here are some photos from various years of the Cleggan Music Weekend: