CLADDAGHDUFF SCHOOL CELEBRATES 50 YEARS!
Friday 6th September 2013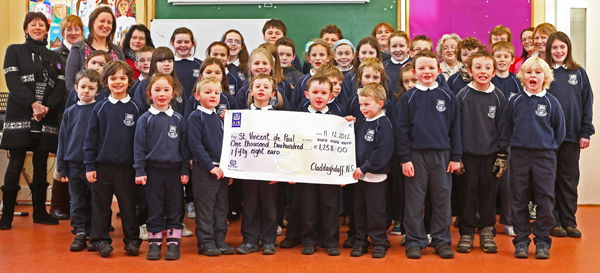 The photo (right) shows a group of the pupils of 2012 in their school, Scoil Mhuire gan Smal in Claddaghduff (on the occasion of their presenting a cheque to Vincent de Paul); it shows just how vibrant the school is, and what an asset it is to the community.

This FRIDAY, 6th SEPTEMBER, the school celebrated its 50th year - what an achievement that is!

Read all about it on "2013 - Past Events" - just click HERE to go straight there.

A GREAT TURNOUT FOR DUSTY BANJOS' 5th CLEGGAN MUSIC WEEKEND - 21-22 JUNE 2013
***PIX NOW UP ON AUGHRUS PENINSULA'S FACEBOOK PAGE!! - CLICK HERE - AND READ A DESCRIPTION AND BROWSE AN EXTENSIVE PHOTO GALLERY ON THIS SITE - CLICK HERE.
AND a selection of photos is up on The Gathering Ireland's Facebook page - head to that page and check out "Photos"/"Photos of The Gathering".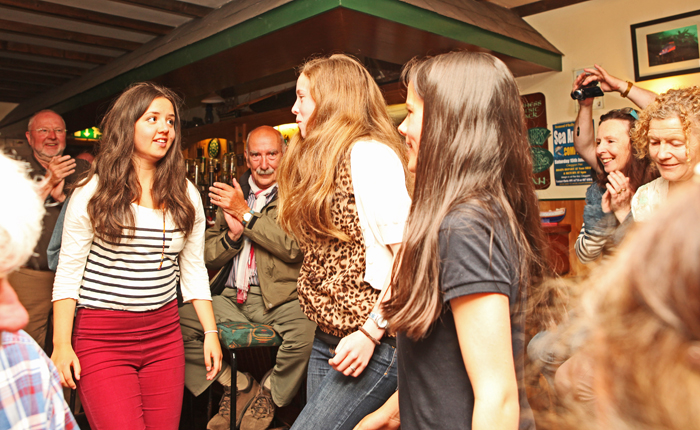 The Dusty Banjos Annual Traditional Music Weekend in on the way to becoming a tradition in its own right! Dusty Banjos, co-run by local residents Mary Lovett and Heather Greer, is a community-based group set up specifically to help adults who want to play traditional Irish music with others. You can learn more about Dusty Banjos at their website: www.dustybanjos.com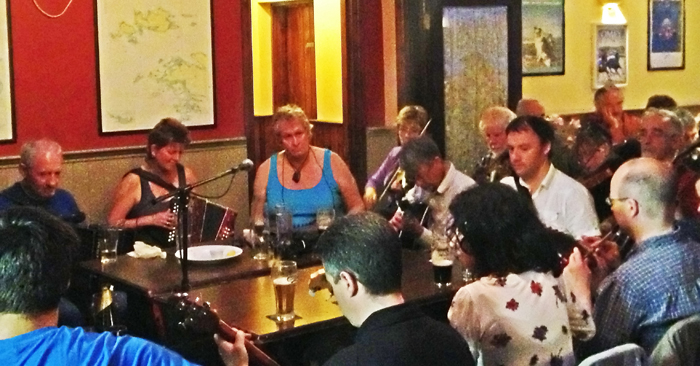 The Saturday night session in full swing in Oliver's Bar, 22 June 2013

PS.... Mary and Heather, who organise Dusty Banjos and the Music Weekend in Cleggan, have earlier in 2013 published a brand new tunebook, with some 420 tunes (mostly arranged into sets) in musical notation and ABC, PLUS 200 photos and other memorabilia from the ten years of Dusty Banjos. Click HERE to visit the website for the book.
THE CLADDAGHDUFF PONY SHOW IS BACK!!
SUNDAY JUNE 30th 2013

Really great news for the Aughrus Peninsula is that the extremely popular CLADDAGHDUFF PONY SHOW is back for 2013!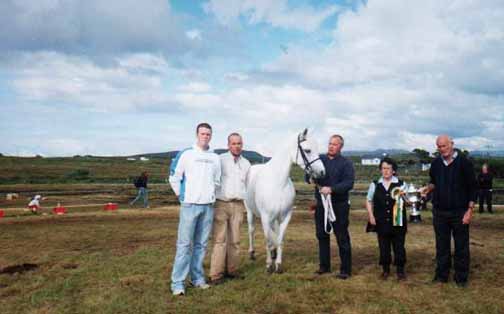 This will in fact be the very first show in the Connemara Area for 2013,taking place as it does the week before The Maam Cross Show (this is a change from the usual show date, so as not to clash with the dates for the Omey Races and Triathlon).

There will be classes for In Hand Connemara Ponies ranging in age from Foals up to Seniors! There will be a Dog Show, Cattle and Sheep Show. There are superb cups, trophies, rosettes and prize money for all classes, and Special Rosettes for Young Handlers.
There will be complimentary amusements and activities for children and adults!